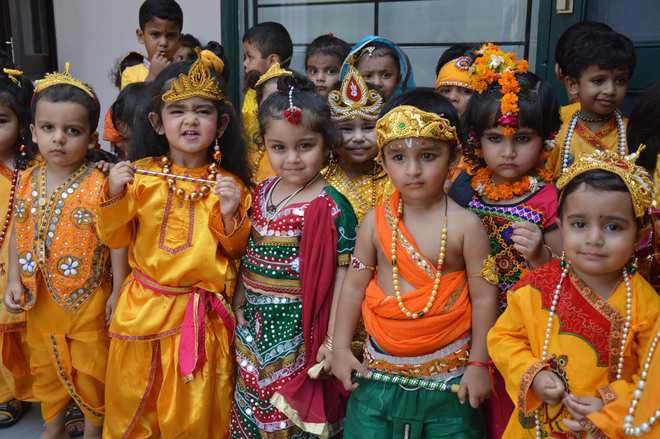 Tribune News Service
Ludhiana, August 23
Various schools across the city observed Janamashtami. Myriad of activities were organised to celebrate the birth of Lord Krishna
Eastwood Int'l, Mullanpur
A special morning assembly was organised. Tiny tots of Class I and II performed a dance on Mayia Yashoda. Students came dressed as Radha and Krishna. A fancy dress competition was also organised for students.
Manav Rachna Int'l
Beautiful decorations were put up to make the event more cheerful and colourful. Boys of pre-primary sections were decked up as Lord Krishna and girls came as Radha. The celebration comprised mirthful performances by the tiny tots, including enactments, hymn recitation and many more.
Sacred Heart Sr Sec School, Mandi Gobindgarh
Students were dressed as Radha and Krishna. The campus was decorated with flowers, buntings, swings, pictures and jhankis depicting life of Lord Krishna. Kindergarten students performed mesmerising group dance, group songs, solo song, followed by choreography by students of Class I and II on Krishna Leela.
Green Land Sr Sec Public, Jalandhar Bypass
The campus looked beautiful with young toddlers dressed up as Radha, Krishna, Mirabai, Vasudeva and Yashodha. There was an aura of divinity all around with bhajans resounding on the campus. Mesmerising dances depicting the life of Lord Krishna were performed. A wonderful show depicting various stages of Lord Krishna's life was put up by the students.
International Public School
Tiny tots of Kindergarten came in traditional dresses. Boys were dressed as Krishna and girls as Radha. The school was decorated with flowers and swings to make the event more cheerful and colourful. The event comprised group dances on the tune of garba. A matki phor event was also organised.
Police DAV Public School
The school campus was decked with beautiful decorations. Students tapped their feet on devotional songs of Lord Krishna and Radha.
MGM Public School
The celebrations comprised performances by students. A beautiful backdrop of little Krishna in his cradle was set up on the campus. Children enjoyed decorating dandiya sticks and flutes.
Atam Devki Niketan
The celebrations began by depicting various tableaus from Lord Krishna's life. Kindergarten students were dressed as Lord Krishna and Radha and presented various cultural programmes.
Spring Dale Public School
Children enjoyed swaying little Krishna in a traditional craddle. They also sang hymns in the praise of Lord Krishna to mark his birth anniversary. A dahi handi event was the centre of attraction. The celebrations culminated with offering of makhan mishri to Lord Krishna.
DAV Public School, Pakhowal Road
The kindergarten wing was transformed into a land of joy, celebrations and happiness. Bringing mesmerising memories from Gokuldham ,the tiny tots came dressed up as Radha and Krishna.
BCM, Chd Road
Students were dressed of Lord Krishna and Radha. The campus was turned into Vrindavan. The kids took part in various activities planned for the day such as flute and matki decoration. A movie based on the life of Lord Krishna was also shown to kids.
New GMT Public
Children fervently took part in the celebrations. They drew beautifully coloured sketches of Lord Krishna. Sweets were also distributed among students. They also sang mellifluous songs in the praise of Lord Krishna and gave the message of universal brotherhood to all.
Sacred Soul, Dugri
Children of Nursery to Class II came dressed in traditional attire. A movie on the birth of Lord Krishna was also shown. Children merrily danced to the tunes of devotional songs.