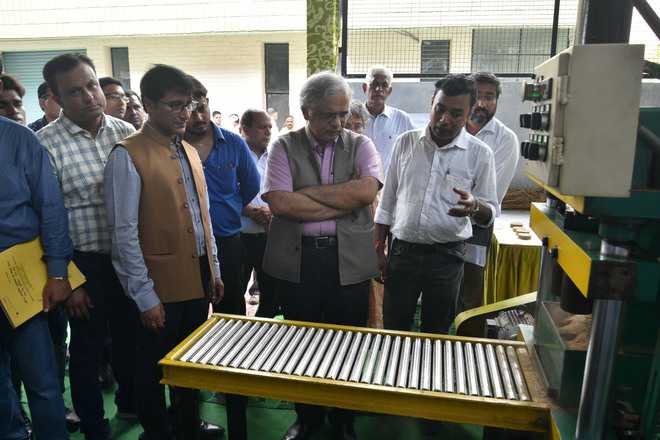 Manav Mander
Tribune News Service
Ludhiana, August 25
A Solar Power Tree has been developed by the Center of Excellence in Farm Machinery (CoEFM), Ludhiana, an extension centre of the Central Mechanical Engineering Research Institute (CMERI). The technology was transferred today to a Delhi-based company, SolEnergi Research Private Limited, for further production and sale of the same.
The company already has five clients in hand for setting up of solar trees. It not only generates solar power but is also a perfect solution for land crisis as it takes only one percent space.
Shekhar C Mande, secretary, Department of Scientific and Industrial Research (DSIR), while telling about the solar tree, said: "The solar tree developed by the Council of Scientific and Industrial Research's (CSIR) CoEFM division is a traditional tree with branches of photovoltaic panels harnessing solar energy for producing electricity. It not only reduces the space requirement for installation of panels but also is an efficient method of off grid power generation in remote areas."
Prof Harish Hirani, director at CSIR-CMERI, said the solar power technology developed by the CSIR-CMERI for auto tracking of solar power occupied minimum land space. "Solar power tree rotates on its axis with all the solar panels together that generates 10-15 per cent extra power from the sun with direction from East to West. Rotation is given to solar panels by rotating the trunk of the tree either manually or from its root," said Hirani. "The plan was to instal solar trees in farms from where the farmer will charge the battery of his tractor and use the crop residue in the generation of bio-energy. This way, a farmer will not be required to buy diesel. We will be holding the first trial within one year as lot of changes are to be made in the tractor to run it on battery," said Hirani.
Amit Rai from SolEnergi Research Private Limited said: "We already have five clients in hand, all are government offices from Nagpur. The CoEFM itself has installed three solar trees, one is of one kilowatt, the other two are of three and seven kilowatts. Three more trees of 11 kilowatts will be installed. The cost of installing one kilowatt tree is Rs 1 lakh and the cost for installing a 10 KW tree is Rs 10 lakh.
Features
It gives 100 per cent more solar power compared to conventional sources.
Needs only 1 per cent land surface
Holds panels at higher height so it gets more sun
It can be facilitated with water sprinkler at the top
It can produce 25-30 per cent more power because all panels can be rotated at 180 degree in the afternoon and morning towards the east and the west by an easy mechanism.