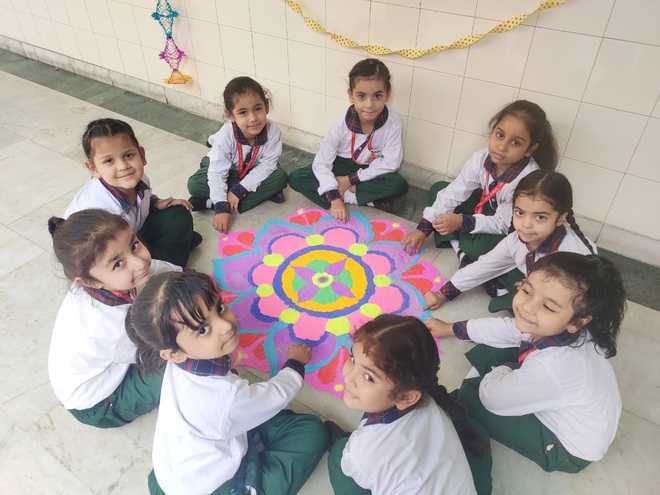 Tribune News Service
Ludhiana, October 24
Diwali was celebrated with great pomp and show in schools across the city.
Sacred Heart Convent School, Sarabha Nagar
The festival of Diwali was celebrations with a scintillating cultural show. A rendition of the song 'Deep Jale' commenced the event. Students presented a parody on the habit of passing on gifts. The other highlights of the show included a foot tapping dance, band and bhangra performance. The Vice Principal asked students to understand the real spirit of the festival and celebrate it in an eco-friendly manner. The function ended with singing of the National Anthem.
Green Land Convent, New Subhash Nagar
The school was decorated with diyas. A special morning assembly was organised, during which students delivered speeches on the significance of the festival and the relevance of eco-friendly celebrations. Students of senior wing participated in an inter-house rangoli-making competition. Every class displayed their items in an innovative way with colourful dupattas.
HVM Convent, New Subhash Nagar
The school celebrated a clean and green Diwali with festive gusto. A whole gamut of activities started with a special morning assembly, in which students delivered speeches on the significance of the festival and the relevance of eco-friendly celebrations. Various activities such as candle and diya-decoration, paper lanterns, best-out-of-waste creations, paperflower making, and greeting card making contests were held for all classes.
Shri Harkrishan Sahib Sr Sec School, Daba
Diwali was celebrated with devotion and religious zeal. The school wore a festive look with decorated pots, diyas and lanterns adorning the reception and corridors of the school. An assembly was organised in which students laid emphasis on the urge to act responsibly and be sensitive towards environment and safety of animals. Speakers apprised the audience about adverse effects of fireworks and promoted the use of eco-friendly colours for making rangoli.
Green Land Senior Secondary Public School
A special assembly was organised for students of Class Iv to VI, in which students were sensitised to the alarming situation of deteriorating environment. Students were told the importance to keep their surrounding clean and celebrate a green and eco-friendly Diwali. An inter-house rangoli competition was also organised for students of the senior wing.
Saint Bir Santosh Public School
The school organised an exhibition of Diwali handicrafts prepared by students themselves. Students of Class I to X prepared various items. They brought raw material from homes and were guided to decorate it in different ways. The items prepared by students included candles, diyas and pooja thalis. Winners were awarded with prizes.
New GMT Senior Secondary Public School
Students and teachers proffered their expertise by making drawings and other artistic items on the theme of women empowerment. Rangoli patterns demonstrated by students gained applause. The campus was adorned with multicolored qualifiers. Students also performed a one¬-act play on the history and culture of India. Students also organized a rally on the adverse effects of crackers on the environment.
BCM Kindergarten, Chandigarh Road
Children came dressed in colourful attire. Tiny tots hailed Diwali by enthusiastically taking part in diya and candle-decoration activity. Principal DP Guleria wished everyone a happy and safe Diwali.
Police DAV Public School
A Diwali crafts exhibition was organised on the campus. The school was decorated with diyas and lights. Corridors were decked up with vibrant colours, intricate rangoli designs and other embellishments. The display was a collection of various handicrafts which were prepared by students themselves. The items included diyas, photo frames, paintings, candle stands, decorated vases, paper lanterns
ABC Magical World Preschool
The school was decorated with fresh flowers and candles. Children came in party dresses and performed Lakshmi Puja. Tiny tots danced on peppy numbers and relished cakes, chocolates and sweets.
Ryan Int'l School, Dugri
Students took part in a rally to enlighten public to celebrate eco-friendly Diwali. Students and staff carried placards and raised slogans on how burning crackers lead to air and sound pollution. Students urged people to celebrate the festival by lighting earthen lamps, decorating their houses, performing pujas and exchanging sweets.
MGM Public School
A special assembly was organised, in which students laid emphasis on the importance of the festival. Students prepared cards, diyas, candles and thalis. Sweets were distributed among students. Principal Poonam Sharma urged students to say no to crackers and have a safe and green Diwali.
BCM Arya School
With the aim to creat awareness among students about celebrating Green Diwali, pamphlets were distributed encouraging them to plant trees on Diwali. A special message on 'Say no to crackers' and 'Say yes to pollution-free environment' was also given. Students participated in fun-filled activities, including poster making, rangoli, origami, earthern lamp and candle-decoration among others.
Spring Dale Public School
Students decorated the campus with hand-made torans, candles and diyas. A rally highlightisng the message of green Diwali and say no to crackers was also carried out. The colourful rangolis made by students stole everyone's heart. A Diwali mela was also organised for students.
Top News
WFI chief Brij Bhushan using his influence to force sexual h...
Investigation committee will be formed to look into the matt...
The announcement was made in the presence of Ajit Pawar, a k...
The incident takes place at around 1.30 am when the men barg...
Mann says his government will recruit 1,880 doctors and nurs...