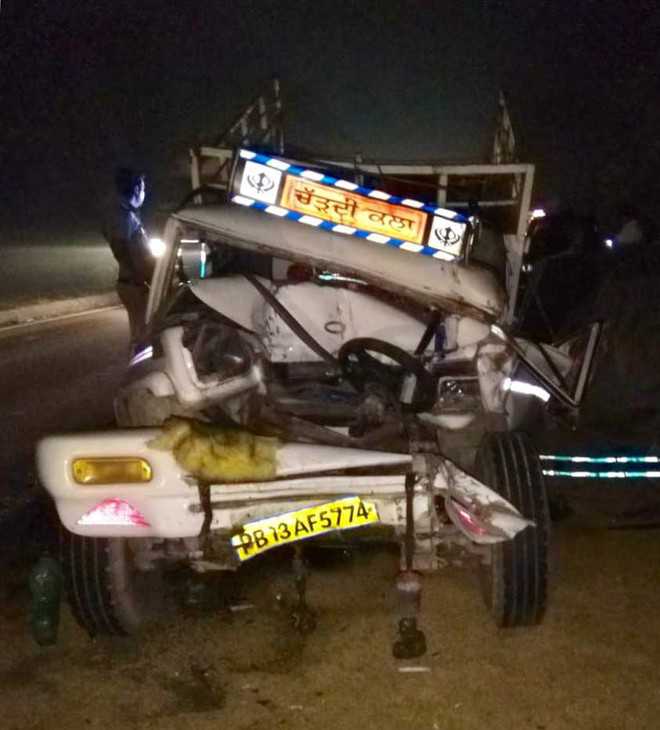 Mahesh Sharma
Ahmedgarh, October 20
The circle police has recommended names of three cops, whose prompt and timely action saved lives of at least two occupants of a tempo, that collided with another vehicle three days ago.
The names of Mandi Ahmedgarh Sadar SHO, Sanjiv Kapoor, head constable Jasvir Singh and gunman Ranjit Singh, who exhibited outstanding performance in rescuing seriously injured occupants from mangled remains of the ill-fated tempo on the fateful night, have been recommend to the higher authorities.
The victims, whose condition is now safe, are Rajinder Kumar and Ishwar Singh of Janta Nagar, Dhuri. The Mandi Ahmedgarh DSP, Karanveer Singh, and the Mandi Ahmedgarh SDM, Vikramjeet Singh Panthey, supervised the rescue operation.
Appreciating diligence and promptness shown by cops posted at the Sadar police station Karanveer Singh claimed that the designated cops had spent over two hours to rescue Rajinder Kumar and Ishwar Singh, who were badly crushed in mangled remains of tempo, in which they were travelling on Thursday night.
"We received information about collision of a tempo with another vehicle, near Jandali village, on the Ludhiana-Malerkotla highway around midnight. As we reached the spot we noticed that front chamber of the tempo was badly damaged and the victims could not be rescued without cutting open sides of the vehicle," the DSP said while maintaining that cops led by Sanjeev Kumar showed an outstanding promptness for arranging gas cutters to cut open fixtures and sides of the tempo.
The victims were later shifted to multi-specialty hospitals for treatment of injuries, which otherwise could have proved fatal.
The Sadar police station had recommended names of Sanjeev Kapoor, Jasbir Singh and Ranjit Singh, which would be forwarded to the higher authorities for recognition accordingly, the DSP added.
Top Stories