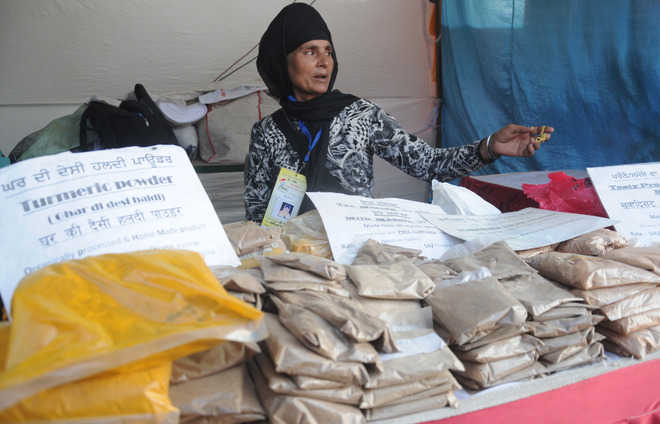 Gurvinder Singh
Tribune News Service
Ludhiana, October 8
Despite husband's reluctance for her to work, Ranjit Kaur (54) wants to live her life on equal terms. She says she was once objected to her going to Hazoor Sahib and spending away his earnings due to financial constraints. On that day, she decided to become self-dependent.
"I prayed to God to bless her with skills, so I can earn a living on my own," she says. She took training at Krishi Vigyan Kender, Gurdaspur. "God answered my prayers, and since then, I have attended so many training programmes and attained skills in several areas. Now, I am skilful enough to be able to earn on my own," says Ranjit Kaur, hailing from Ranjit Bagh village of Gurdaspur. She is participating in the ongoing Saras Mela at the PAU.
A self-help group was set up with the help of the district administration. Though they began with soft toys, it was her organic and delectable pickles that got everybody's attention. She started making pickles of different kinds around 12 years ago. Since then, there has been no looking back.
"My pickles are different as I make these with fruit juice. To start making these, I took a loan of Rs 3 lakh and purchased machines for making the pickles," said Ranjit.
Focusing especially on curative combinations of spices, she has come up with dried 'karela' powder, 'jamun' and stevia powder as well. "These are especially useful in diabetes and other ailments," she says.
"I make a special 'medicinal turmeric' powder, which is darker in colour and helps in removing infection. But this turmeric is not very commonly grown," she says.
She now goes all on her own and participates in several fairs, including Kisan Mela and Saras Mela, to showcase her products. Thanks to her efforts, her daughter has now completed her mechanical engineering. But despite the struggle, she wants to make much more products. "I have several products in mind. As and when I start earning more, I will add more products to my tally of pickles, which are not only tasty but also healthy," she says.
The key to making people stay away from junk and unhealthy food is to make healthy food not only nutritious and healthy but also irresistibly tasty, she says. "Now all that I make gets sold. I have regular customers not only in Gurdaspur but also at several fairs I participate in," she says.
Ranjit says one needs to have a resolve and faith in God, and things start falling in place.
Top News
Attacker identified as ex-policeman dismissed last year, had...
The victim family, from Hoshiarpur in Punjab, was kidnapped ...
Jasdeep and Amandeep Singh came out with their hands zip-tie...
WHO has warned that Maiden cough syrup could be linked to th...
None of the four products mentioned by WHO in an alert are m...