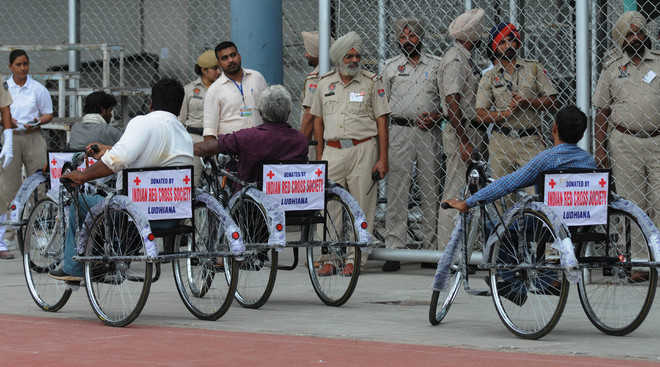 All human beings have something special within us and some weaknesses too, and so do specially abled people. We as society must help specially abled people to focus on their strengths, instead of their weaknesses so that they can enjoy their life like us. We should also accept them as equal and not someone who need to be pitied. They should be given equal opportunities to come forward. Specially abled people don't want to be treated as different, they want to be treated as equal. We must interact with them and make them feel normal. Opportunities must be given to these people to motivate them to do something good in life.
Manpriya Kaur
---
Create opportunities for differently abled
It is important to provide proper and safe access to roads, transport, buildings and public places to differently abled persons so that they could enjoy a meaningful life and contribute to the progress of the nation. The focus should be on making educational institutions, classrooms, libraries and washrooms accessible to specially abled people. India has a disabled population of more than 2.1 crore people and the Supreme Court's order is an essential move towards improving their lives. By building environment for the disabled, improving public transportation and ramping up information and communication technologies, we can pave their way towards success. Companies should also start hiring more differently abled people in their verticals so that specially abled persons should learn skills, instead of regretting about their disability.
Harkirat Singh
---
Make this world a better place to live
The perception of treating specially abled people as ill, and marking them out, tends to isolate them. There are approximately 70-80 million specially abled persons in India. All buildings must be made compatible with the needs of these people. Education should be made accessible to these people, and for this, school buildings, classrooms, libraries and washrooms etc. need to be modified. Access is the key to the inclusion. It should be made sure that an equal opportunity employment policy should be made so that in the selection of the best candidate, quotas or bracketing individuals as 'abled' or 'specially abled' is not followed. Visual free alarms should be arranged at all public places. Accessible toilets are required with adequate clearance, grab bars and fixtures within reach, doors that open out, non-slip flooring, panic buttons and signage etc. So we should make a way for specially abled persons. They do not need our sympathy and help, but our right attitude towards them is the key to equality. We as responsible citizens should make this world a better place to live in for all irrespective of whether they are abled or specially abled.
Dr Jasdeep Kaur
---
Educational institutions, offices should have ramps
Access is the key — if a specially abled person isn't able to go to school, college or office, how will they gain education or work. Our education system and work environment need to be disabled-friendly. Specially abled people need right infrastructure and right people to achieve success in life. We need to give sensitivity training to people so that they give training to people with disability so that they explore their full potential. Schools, educational institutions and offices should have special facilities such as ramps and special washrooms for differently abled people. Wheel chairs should be provided and staff should be trained to help the differently abled people. They should be capable of handling such people in the best way. They should be friendly with them and trained to serve them well.
Ekroop Kaur
---
Treat them as special creations of god
It is essential to change our mentality and perception towards specially abled people. We as society must understand that these people are not abnormal and we don't pity them. They are equal to everybody and can perform to the best of their abilities if given the right guidance and opportunities. So we should not treat them as someone lesser. With such an understanding, we can not only establish government buildings, educational institutions, railway stations and other public places that are compatible with the needs of such special people, but can also ensure conducive environment for them through generous counselling. One more suggestion I would like to give at the end is that we should stop treating them as differently abled, instead as special creations of god.
Jasleen Kaur
---
Additional help should be there at public places
The Municipal Corporation and other government departments concerned should make public places disabled friendly and provide special additional facilities at such places. The local governments as well as the Centre should construct roads, parks, railway stations and bus stands keeping in mind the needs of such people. Proper ramps, special washrooms and sitting facilities should be there at public places. Some additional men for help should also be there all the time to assist the specially abled. It is equally important that before specially abled are taken to any public place, they must be made abreast about the details and various facilities available there so that they do not face any problems during the visit. Specially abled persons must be encouraged to visit public places and enjoy life, and must not be denied this privilege.
Dr G Dev
---
Govt should provide proper facilities to specially abled
It has been felt that specially abled persons need special arrangements in environment for their mobility. It is important to identify public places that are inaccessible to differently abled and inform the government about it. The government should take steps to make public places accessible to specially abled. Installation of ramps, availability of an accessible toilet with grab bars, improving public transport, auditory signals in elevators, accessing special learning devices to help differently abled students enrolled for higher studies, resting areas for senior citizens and other utilities must be mandatory and properly maintained in public places. Human life is the beautiful gift by God. Those who are complete in all aspects must help those who are differently abled. In India, there are approximately 70 million differently abled people. For these people, different NGOs are working for their inclusion in the mainstream. The Supreme Court also ordered the state governments and the Centre to make public places more accessible to differently abled. Each and every state government must take care of these differently abled people and should provide facilities to access each public place without any hurdles. The provision of wheelchairs should also be there at all public places.
Dr Mohd Saleem Farooqui
---
Public places should be made disabled friendly
We often see that specially abled people are forced to live in enclosure. They are not allowed to go outside alone because of safety reasons. By continuously living in a same place, they feel depressed. It is important for them to move out so that they are aware of the outside world. But the question arises, is it safe for them to go in public places? And the answer is NO. And the reason behind this is unsafe and cracked roads, poorly managed parks and markets and other public places. We as society and the administration should keep proper check on it. There should be footpaths on the roads where they can freely walk. The traffic police can play a great role by helping them on roads. We should strictly follow the traffic rules so that specially abled don't get hurt due to our negligence. Helpers should be provided by the administration for helping them in parks and markets. Proper seating facility should be available for them at these places. Most importantly, we must teach others not to make fun of them. By this way, they will feel themselves equal to others.
Ritu Priya
---
Need to sensitise society to needs of specially abled
We may admit or not, but most of us lack the basic courtesy that we all should be displaying, especially in public places and transport. We call ourselves educated, but we do not even bother to offer a seat to a lady or an elderly person while travelling in any public transport. So what can be expected from us for the specially abled. There is a dire need to make general public understand that these specially abled people do not want our sympathy, rather they want our encouragement. We should consider oneself lucky to have all our limbs intact, but having cold feelings for specially abled are in no way justified. We all need to develop a warm heart for them. After all they are also a part of our society. We must help them out but without hurting their dignity. They do not want anything special from us, but only that they should also be treated equally.
Bir Devinder Singh Bedi
---
OPEN HOUSE COMMENT
Specially abled don't want our pity
Minna Zutshi
ThE public places are almost off limits for the specially abled. This is not so much an infrastructural issue as a callous disregard for the basic rights of the people with special needs. Ignoring the specially abled is convenient for politicians and officials as the individuals with special needs are neither a formidable pressure group nor are they a large vote bank. What makes it worse is the biased mindset of the people who claim to be 'able' persons. Stereotyping and patronising attitude are common. The specially abled do not want any sympathy or pity. But they do have the right to access the public places and the right to live life with dignity. They are an integral part of the community..
Top News
Rana Gurmit Singh Sodhi, Manoranjan Kalia and Amanjot Kaur R...
Can meet at Hyderabad residence on Dec 6, says Kavitha
CM Bhupesh Baghel had earlier accusing the probe agency of c...
Secretary of State Antony Blinken emphasises that Biden Admi...
Gurpatwant Pannu, head of the banned terror outfit Sikhs For...