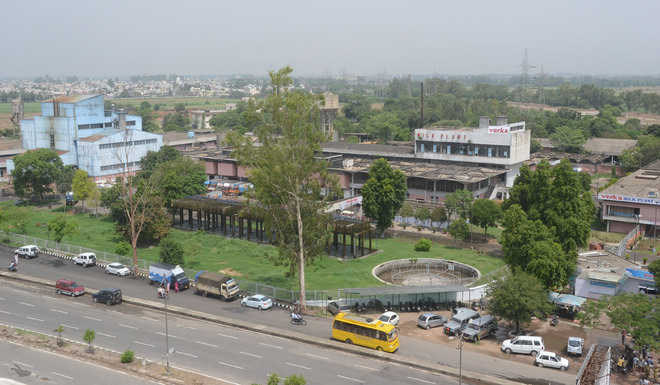 Ludhiana is developing at a very fast pace, but unfortunately at the cost of environment. It is known as the industrial hub of the state, but sadly industrialists are more interested in making profit and don't care about environmental issues. Luckily, we are living in an upcoming Smart City, but not in a green city. Many industrial areas in the city are suffering from various types of pollutions. It is the moral responsibility of the industrialists to come forward and plant more trees to save the environment. There should be a park in every industrial area and it must be managed by the joint efforts of the MC and traders. Spaces under the flyovers are highly misused with people using it for parking vehicles, throwing garbage or in some cases these spaces even become toilets for people who urinate in the open. Spaces under the flyovers should be cleaned and beautified by planting trees and plants. The MC should make parks under flyovers and must appoint gardeners to look after these. Till date, many under-bridge areas are used for greenery, but still many are lagging behind.
Ritu Priya
---
One family, one tree norm should be mandatory
With the rapid urbanisation and widespread urban sprawl, the green belt is depleting very fast. This is one of the main causes of rising temperature every year and water shortage across the world. If it continues like this, the day will not be far when the land will turn into a plain concrete. The state governments and the Centre decide how much fund is allocated to each sector. If the government can decide to make Aadhaar card mandatory, it can also make planting one tree mandatory. Not only Ludhiana, but all states can be made green by following some important steps. One family one tree (OFOT) norm should be made mandatory. That is each family should plant and nurture one tree, failing which some facilities may be withdrawn. Tree plantation week should be celebrated in each ward under each MC zone. Each area with maximum number of trees should be honoured. At district and state-level, Van Mahotsava should be celebrated annually. In each school and college, children should be motivated to plant trees. On both sides of roads, more and more trees should be planted. Saplings should be provided for free. Chapters on the importance of trees should be included in the school curriculum.
Dr Mohd Saleem
---
Implement plans to increase green cover
Urban green spaces are vital for the health and well-being of residents. But unfortunately, Ludhiana and for that matter cities across the country have lost much of their green spaces over the period of time. Poor urban planning and proliferation of road networks have taken a heavy toll on the green cover. Trees are being axed for various development projects. Moreover, rapid destructions of green spaces in the largest and fastest growing city is underpinned by a variety of human induced factors such as laxity in the enforcement of development controls, problem of ownership of green space lands, low priority to green spaces, uncooperative attitudes of the general public, poor culture of maintenance and lack of coordination among the allied bodies on green spaces. Besides, astounding wave of migration driven by changing livelihoods, global economic changes and environmental change etc. are factors responsible for the loss of green cover in the city. Being green is no longer a cost of doing business; it is a catalyst for innovation, new market opportunity, and wealth creation. Concerted efforts by the authorities concerned and policy makers to chalk out a broader public policy on preserving green spaces should be directed towards addressing the destruction of green spaces from different angles. City planners and design professionals will also have to respond to the problem by finding innovative solutions such as green roofs, green walls and pocket-parks to add more green spaces.
Ravi Chander Garg
---
Time to get serious to increase green cover
It is a bitter truth that our cities are fast turning into concrete jungles. We are ruthlessly cutting trees in the name of development. But it is high time that we should get serious to increase the green cover. The best way is to choose a day to plant a sapling. Try to plant at least one sapling on special occasions — be it birthdays, anniversaries or any other occasion. Not just plant a sapling, but also take care of it. Even some NGOs can come forward for this noble cause. The school and college authorities can also play a pivotal role by celebrating Van Mahaotsava on their premises. This can sensitise our youth to this sensitive issue. Though the National Green Tribunal is doing a commendable job, we as citizens of this city, too, have a duty towards our Mother Nature. We need to understand that the scarcity of trees can lead to big problems such as floods, change in rainfall patterns etc. Development at the cost of losing trees is in no way a wise idea. Increasing the green cover is need of the hour.
Bir Devinder Singh Bedi
---
Government should hold awareness programmes
Greenery must be a key consideration in urban planning if the health of the city and its residents are both important for the government and the authorities. Increase in deforestation leads to global warming. However, we can curb this problem by increasing the green cover. The local government should maintain and protect public parks and also hold awareness programmes to educate and encourage people to plant more trees. The government should provide saplings free of cost and should also take strict action against reckless cutting of tress. Some areas should be turned into picnic spots and more and more trees should be planted in both sides of roads. The authorities concerned should develop more nurseries.
Harsh Kaur
---
People cutting trees should be punished
With the world growing at an ever-increasing pace, the growing need for space is turning out to be a matter of concern. Trees are being cut and forests are being destroyed blindly to provide spaces for roads and industrial and urban use. The growth of concrete structures has taken a toll on the green cover, which is shrinking rapidly. That's why residents have to bear the extreme high temperature everyday. One must know that large-scale deforestation, besides contributing to greenhouse effect, has also reduced vegetation, which helps convert carbon dioxide into oxygen. It has disrupted climatic conditions, besides increasing soil erosion and making low-land areas more prone to flooding. If the agency engaged for constructing roads cuts one tree, it must make sure to plant two more in its place at a distance, which in no way hinders any expansion plan and helps make Ludhiana pollution-free. People cutting or damaging trees blindly must be punished. In order to increase the green cover, the local government should manage and protect urban biodiversity in the city, including natural areas, public parks, gardens, streets and rooftops. In a city like Ludhiana, biodiversity can help people connect with nature and natural processes. Greenery can give us a healthy atmosphere and rid us of polluted air-borne diseases. Global warming, a burning issue, can be overcome by enhancing the green cover and keeping it intact.
Devna Munjal
---
Plantation drives should be organised
Due to rapid growth of industries, cities have emerged as economic power houses. This rapid industrialisation has led to unplanned development of urban areas by large-scale cutting of trees, converting agricultural lands into human habitation etc. This has affected the ecological balance. Traffic congestions, water shortage, solid waste, air, water and noise pollution etc. are common problems in urban areas. Urban green space plays an important role in the social and natural sustainability of a city. The governing bodies should offer incentives to the public for involvement in urban green space projects. Corporate entities should also be encouraged to take up green space projects as part of their corporate social responsibility programmes. While approving a colony, it should be mandatory to leave a green belt of four to five sq km between two colonies where a park or picnic spot can be built up. Drives like one lakh trees in one day in the city, giving free saplings to religious places, malls and business organisations or schools should provide one sapling to each student to plant it at his/her home etc. should be started to spread awareness among public. Seminars or other such programmes should be organised at regular intervals by councillors in their respective wards. Curriculum should be reframed by incorporating the importance of trees in our life.
Dr Jasdeep Kaur
---
Forest Dept should start plantation drives
Open spaces in the city have been vanishing fast, courtesy the concrete giants replacing the lush green old bungalows, grey structures taking over the green cover and open playgrounds taken over by big apartment complexes. For decades now, the trees have been mercilessly felled to make way for construction of buildings, flyovers or other infrastructure, thus taking a heavy toll on the city's green cover. Trees are being felled in the name of development. Various factors such as unplanned urbanisation, rising population and consequent pressure on infrastructure are emerging concerns for nature lovers and environmentalists. Unfortunately, efforts had not been put in by the local civic body and the Social Forestry Department in the past to increase the green cover. They attributed rapid urbanisation as the reason for the city literally running short of places for plantation of new trees. There is hardly any space left in the city to plant saplings. The roads are dug up most of the time for some work or the other, so plantation cannot be done along the roads. But the Forest Department should undertake plantation drives wherever possible to maintain the green cover in the city.
Manpreet Kaur
---
Make efforts to protect urban green cover
Due to rapid growth of industries, cities have emerged as economic power houses. This rapid industrialisation has led to unplanned development of urban areas by large-scale cutting of trees, converting agricultural lands into human habitation etc. This has affected the ecological balance. Traffic congestions, water shortage, solid waste, air, water and noise pollution etc. are common problems in urban
Ludhiana is slowly turning into a polluted jungle with the growth and development in the industrial sector. It has covered a major part of the city, affecting the natural boons. It's high time that we need to take charge of it; otherwise, our future generations will suffer a lot as a result of our wrongdoings. We need to plant as many trees as we can on mid-way paths, raise awareness among people about harmful effects of deforestation and encourage them to develop rooftop gardens. It will serve as an antidote to our already pretty much damaged environment. We need to push ourselves to make efforts to protect our urban green cover before it's too late.
Ashima Vohra
---
Residents should plant saplings in lawns
Ludhiana, the upcoming Smart City, has turned into a concrete jungle where high buildings signify the growth, but the day of doom is not away when people will find it hard to breathe. It is the prime responsibility of the citizens to plant saplings in their own house lawns and on rooftops. The government can employ some people to look after the plants on the roadsides. The government should come up with a rule for the public to leave certain space outside their homes and shops for planting saplings. Youth can present street plays to encourage residents to plant more and more tress.
Tanvi Singh
---
Maintain existing parks to develop green cover
Planting new trees or making new parks won''t make much difference until and unless the authorities don''t maintain the existing parks. Maintenance of the existing green cover is the key to develop urban green cover. Plants need regular attention so proper maintenance is required. The authorities should be made answerable. More and more saplings should be planted roadside
Ekroop Kaur
---
Need plan that covers how to rehabilitate trees
Unplanned urbanisation and growth has led to the depletion of green cover in the city. We need a development plan that covers how to rehabilitate trees if we uproot them to make buildings or flyovers. We can plant trees on wastelands. The authorities should restrict development of new colonies on the agricultural land on the outskirts of city. By making housing complexes and buildings, we are wasting our fertile land and decreasing our green cover. The authorities in collaboration with the PAU can start plantation drives and educate residents about the importance of growing trees. MLAs can start plantation drives in their constituencies and encourage their ward residents to plant at least one tree. Trees can also be planted alongside the canals as most of these trees were uprooted for building a highway.
Rattandeep Singh
---
Govt should honour people who plant trees
India is one of the fastest developing countries. But in this race of development, we are neglecting our environment, creating concrete jungles and in the process, destroying our Mother Nature. The need of the hour is to maintain a balance so that we don't harm our Mother Nature in the process of development. We should plan our infrastructure properly. We should plan how roads and building should be built and also create a green cover in our city. Seminars and drives should be organised to spread awareness among residents about the importance of green cover. The schools and colleges should motivate students to plant more and more trees. The government should honour people who contribute to increase green cover in the city. People should plant saplings on their special occasions such as birthdays, anniversaries etc.
Abhilasha Singh
---
City needs planned development
Being an upcoming Smart City, Ludhiana needs planned development and proper green cover. Cleanliness is next to godliness. Clean and green environment reflects purity and positivity. Swacch Bharat Campaign is a good initiative towards the cleaning of the country. Cleanliness drives should be carried out in the city. Residents should take a pledge to keep their surroundings clean and green. Ludhiana should be developed as a lush green city. Despite being one of the leading industrial cities, Ludhiana suffers from air pollution. The government should focus on planting more trees in the city so that the air pollution level can go down and air quality improves. It is our responsibility as citizens to curb this problem by planting more trees. Awareness programmes and seminars should be held in the city to aware and educate residents. Strict action should be taken against those who indulge in cutting trees. The authorities should try its best to maintain and beautify the city.
Kalpna
---
Impose fine on firms involved in cutting trees
Due to the construction of big malls and highways, tree-laden areas are being axed in the city. The government should step in and impose heavy fines on companies involved in cutting down of trees. Various NGOs should also step in and hold plantation drives and programmes to make people aware about the importance of trees. Residents should also plant more trees in their localities. Environmentalists should make schemes and strategies to increase the green belt in the city. Educational institutes must put great emphasis on environment as a subject in their curriculum. Lastly, instead of making big fuss about cutting the trees, people must make a fuss about planting trees.
Komal Beri
---
OPEN HOUSE COMMENT
Only sincere efforts can help create green spaces
Minna Zutshi
Ludhiana city is turning into a concrete jungle. Though much hullabaloo is made about 'green drive' that involves planting saplings, the fact of the matter is that once the saplings are planted, there is hardly any follow-up action. Consequently, very few saplings survive. The focus invariably is on numbers and there is a 'race' to plant the maximum number of saplings. The desired hype is created, but the desired goal is never achieved and the green cover remains as elusive as ever. Only a sincere effort by the city residents, NGOs and community leaders can help the city create green spaces. And most importantly, the suggestions and advice of experts must not be ignored. Not all tree species are suitable for all spaces and it is not a good practice to plant trees randomly.
---
OPEN HOUSE QUESTION
Next week's question: What steps can be taken to ensure the safety of sewer workers? ludhiana.feedback@gmail.com
Top News
The survey said the pace of price increases is not high enou...
81-year-old is currently lodged in a Jodhpur jail, where he ...
Was addressing the joint sitting of both Houses of Parliamen...
Baljinder Singh and Harpreet Deol Both are Pentecostal pasto...
135 people were killed in last year's suspension bridge coll...