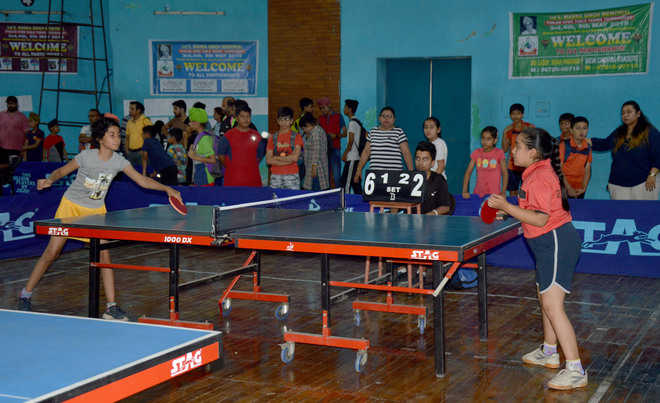 Ludhiana, May 3
Vani Sharma from Mohali and Manal from Chandigarh overpowered their respective opponents to set up the title clash in the cadet girls (U-12) category on the opening day of the third Manna Singh Memorial Open Punjab Table Tennis Tournament at Shastri Hall near Guru Nanak Stadium here today.
In the semi-finals, Vani Sharma survived some anxious moments against Mehar of Aspire Academy, Ludhiana, before wrapping the cliff-hanger 11-8, 11-9, 6-11 and 11-8, whereas Manal scored victory in straight sets over Tejal Basra from Mohali whom she tamed 11-8, 11-9 and 11-7 to settle for the title clash.
Similarly, in the kids boys (U-10) section, Sahil Rawat of Mohali outperformed Ayan Khosla from Amritsar 11-9, 11-7 and 11-8 while Raghav from Aspire TT Academy, Ludhiana, beat Divig Garg from Ludhiana 11-7, 11-5 and 11-4 to storm to the final.
Other results
Cadet boys (U-12) quarterfinals: Sahil Rawat (Mohali) beat Vishal (Chandigarh) 11-8, 11-9 and 11-7; Ishmeet Singh (Jalandhar) beat Satvik Jindal (Ludhiana) 11-9, 11-8 and 11-6; Ronit Mahajan beat Manan (Chandigarh) 11-6, 11-7 and 11-8; Lakshay Mahajan beat Daksh Chopra (Jalandhar) 11-7, 11-8 and 11-7.
Kids girls (U-10) quarterfinals: Vani Sharma (Mohali) beat Rizavpreet (Ludhiana) 11-6, 11-8 and 11-6; Bhavya (Elite Academy, Ludhiana) beat Sneha (Ludhiana) 11-8, 6-11, 11-7 and 11-8; Yashvi (Aspire Academy, Ludhiana) beat Nandani (Ludhiana) 11-9, 11-7 and 11-6; Ananya (Chandigarh) beat Sherell (Mohali) 11-8, 11-6 and 11-7. — OC
Top Stories