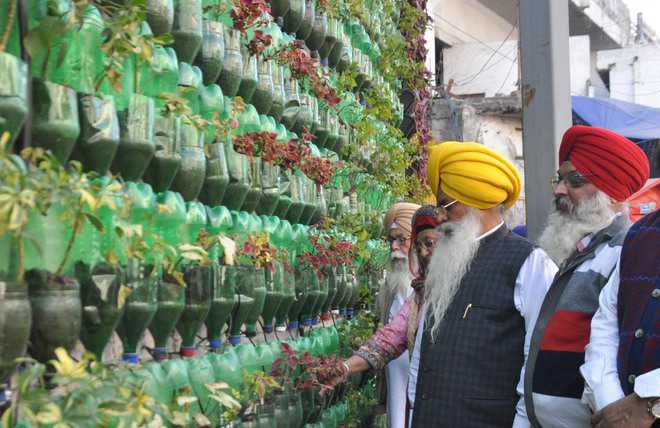 Gurvinder Singh
Tribune News Service
Ludhiana, December 25
A vertical garden made from discarded soft drink bottles at Gurdwara Dukh Niwaran Sahib is catching devotees' fancy.
More than 1,200 such bottles have been used for creating a vertical garden on a wall of the gurdwara to spread the message of saving environment, promoting the reuse of waste plastic bottles apart from reducing pollution.
The bottles have been cut and saplings planted in these after filling it with cocopeat, coal ash and compost. The wall looks green and is catching the attention of those visiting the gurdwara.
Devotees who were seen getting pictures and selfies clicked before the vertical garden were impressed by the initiative. "The vertical garden looks beautiful. There is a need for plants in the city due to increasing pollution," said Amarjit Kaur, a resident.
"The best thing about the garden is that it has been set up by using waste plastic bottles, which are becoming an environmental hazard due to piling up of plastic waste in the world," she said.
"What otherwise would have landed in bin and junkyard and added to environmental woes have been used for making the environment cleaner, which is a great reuse of these bottles," said Harshdeep, another visitor to the gurdwara.
President of the gurdwara management committee Pritpal Singh said the vertical garden works with the drip irrigation system, to prevent the wastage of water. "In fact, we will cover many more walls in the complex with these vertical gardens, as these will clean the air, in addition to having trees in the complex," he said.
He said he got to know that the Income Tax Department has also installed such a vertical garden by reusing plastic bottles. "I went to the department and met Chief Commissioner BK Jha and sought their guidance in setting up a similar garden at the gurdwara as well," he said, adding that a team from the department got it installed here.
Rohit Mehra, additional commissioner at the Income Tax Department, who was instrumental in setting up the garden, said to save the city from pollution, it is important to make the city green. "Rather than just cribbing about pollution, it is time everyone acts at their own level. If there are 30 lakh people in the district and everyone plants even two such planters, we will have 60 lakh plants, which will be a big push towards reducing pollution," he said.
"The idea came during our visit to Singapore, where such vertical gardens are being used and we emulated it here. Due to shrinking spaces in urban areas, vertical gardening is the most viable option these days, which can help in prevent pollution," he said.