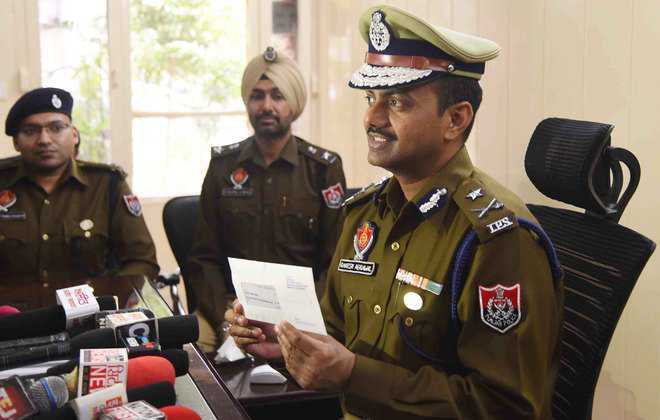 Nikhil Bhardwaj
Tribune News Service
Ludhiana, November 15
From now onwards, if you jump red light or park on or beyond zebra crossing, you will be challaned and slips will reach your home via speed post.
Police Commissioner Rakesh Agrawal, along with DCP-Traffic Sukhpal Singh Brar, DCP Ashwani Kapoor, DCP-HQ Akhil Chaudhary, ADCP-HQ Deepak Pareek, ACP-Traffic Gurdev Singh today inaugurated the e-challaning system at the Police Lines.
"This was the much awaited automatic e-challaning system launched today. It is the first system launched in Ludhiana and no other city in Punjab has this challaning system. It will act as a strong deterrent to traffic violations and will bring respite to the law-abiding commuters of the city by improving the traffic flow. In the first phase, we will cover the violations of red light and zebra crossing, and in the second phase, other violations will also be added to the system," said the CP.
He said the Ludhiana Safe City Project had a wide network of more than 800 operational cameras and the ANPR (Automatic Number Plate Reader) CCTV cameras of the project had been configured at six locations to automatically detect certain traffic violations.
Automatic number plate readers at six locations
Initially, six locations of Dholewal Chowk, Durga Mata Mandir Chowk, Chhatri Chowk Mall Road, Old Session Chowk, Hero Bakery Chowk and Mini Secretariat turn will be covered, and two types of violations, red light jumping and standing on/beyond zebra crossing, will be covered in the first phase. The system will automatically gather vehicle information, owner details, address, etc, and generate a challan document. This document will be sent through speed post to the address of the violator.
How to pay challan
The violator can pay the challan online using Payment Gateway within 30 days of the issue of challan and payment can be made through a credit card, debit card and net banking (using e-challan payment link on the website www.ludhaianpolice.in). The challan can also be paid at the nearest Punjab Police Saanjh Kendra. In case the compounding fee is not paid in time, the challan will be sent to the court concerned and warrant issued against the violator.