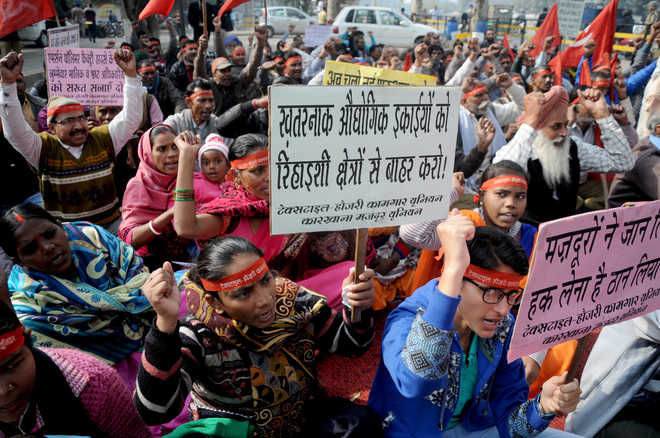 Tribune News Service
Ludhiana, December 5
Various labour unions including Textile Hosiery Workers Union, Moulder and Steel Workers Unions today staged a protest outside Mini Secretariat to press upon their demands to the government.
The protest was held in wake of the recent fire incident at a plastic factory where 16 people lost their lives. The protesting workers demanded stringent labour laws and registration of factories under the Factories Act.
Addressing the gathering, Rajwinder Singh, president, Textile Hosiery Workers Union, said the owner of the factory of the unit played with the lives of the labour working in the factories just to save few rupees.
"Firstly, the factory was located at a residential area. Secondly, the owner concealed the information regarding storage of harmful and explosive chemicals even from fire brigade due to which the blast occurred and many previous lives including fire department officials were lost. There was no record of the number of the workers working in the factory, no identity cards were issued to them and the building bylaws and factory act was flouted with impunity," he said. Further he added that this incident has brought forward the nexus between the corrupt officials and the factory workers.
"What surprises is, authorities are busy shifting the machines and other stuff of the factory owner from the place but nobody seems to be bothered about the workers who lost their lives during the tragedy. The five storey factory employed nearly 100 workers and most of them worked on daily basis and hence no record of them with the department. We are sure that many workers had also lost their lives in the tragedy and even their bodies had not been found," said he.
Rajwinder further said the government has compensated the families of the fire brigade officials but they never thought about the families living near the factory who lost their houses in the blast.
"Nobody is concerned about those whose lost their houses in the blast. They have come on roads and government should compensate them as well," he said.
Top News
Xiaomi accused of 'unauthorised' remittance of this amount i...
Sane also allegedly told interrogators that he was HIV-posit...
Many local villagers were engaged in illegal mining when the...
A DIG-rank officer to probe six Manipur violence cases refer...
Sports Minister Anurag Thakur had assured protesting wrestle...