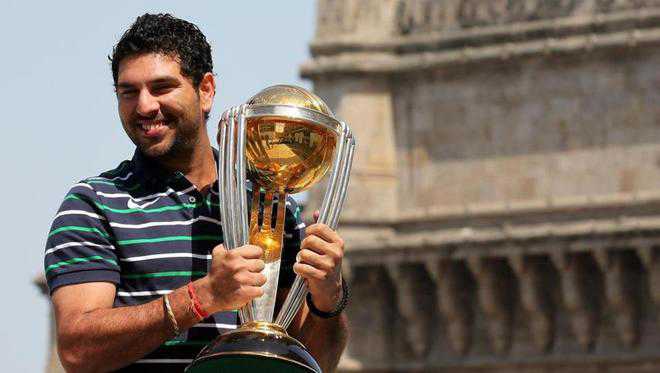 singhking99@yahoo.com
Subhash Rajta
It was the early 2000s. Yuvraj Singh's affair with cricket and its followers had started blossoming. Every time the tall and sturdy left-hander would return to Chandigarh, his home then, after a successful tour/tournament, the city would buzz with excitement, especially the Sector 8 DAV Senior Secondary School Cricket Academy, where he had trained for a few years before breaking into the national scene. As he would amble into the academy, the trainees would stop in their tracks, their eyes fixed on one of the most flamboyant Indian cricketers ever.
The keen eyes would notice the swanky car Yuvraj had come in, the shoes and clothes he was wearing, the shades he was sporting, the way he walked and talked... It was easy to observe that these young and aspiring cricketers were mighty impressed with Yuvraj's meteoric rise as well as his swanky lifestyle. They wanted to be in his shoes — so did millions of other kids across the country. For them, Yuvraj was not just a fantastic cricketer but also a living proof of the lavish and exciting lifestyle, rivalling that of popular Bollywood stars, that they could achieve through cricket. "He was a big star, and the way he carried himself, the flamboyant lifestyle he had, we all wished we could have a similar lifestyle someday," said Gaurav Gupta, a former Punjab Ranji Trophy player. Behind the persona, insists former India pacer VRV Singh, was a very friendly, helpful and simple person. "I was three to four years his junior and learnt a lot from him. Every time he would come back from a tour, he would meet all of us and share the information he picked up while playing at the top level. It helped me and others a lot," said Singh.
Forced start
Interestingly, just a few years before he became the idol of millions of upcoming cricketers across the country, there was hardly anyone who thought he had it in him to become a top-flight cricketer. Except his father, Yograj Singh, of course!
"Until 14, he was rather lazy and ordinary," says Nagesh Gupta, who played age-group cricket with Yuvraj and is a coach now. "He started as a left-arm medium-pacer but switched to spin after suffering a back injury. As a batsman, he was even more ordinary, there was no power in his strokes, his shots barely crossed the 30-yard circle." No power in Yuvraj's shots? Could there be anything more incredible? Interestingly, he wasn't good even fielding, the most ignored and underrated aspect of Indian cricket that he would revolutionise forever in the years to come.
It was, perhaps, around this time that Yograj decided to push him harder, and within just two to three years, the boy who loved skating and tennis was transformed into a promising cricketer. "He changed completely in a couple of years, and that was solely due to the efforts of his father," said Gupta.
Arun Verma, a former HP cricketer who was a trainee at the Sector 16 National Pace Academy in the early 90s, agrees. "There's no way he could have become the cricketer he eventually did if his father hadn't pushed him the way he did. We would have six-eight hours session every day and Yuvi would train with us. And when we were done and didn't have even an ounce of energy left in our bodies, Yograj would drag Yuvi for another session on the field or in the gym. He was very tough on Yuvraj, but those extra yards went a long way in shaping his career," said Verma.
No wonder, Yuvraj was transformed within three years, so much so that he was in contention for a place in India's U-19 World Cup squad in 1997-1998. Unfortunately, he missed out even as the likes of Virender Sehwag, Harbhajan Singh, RS Sodhi and Mohammed Kaif made the cut. "He was inconsolable and cried bitterly. He promised himself that he would be in the team for the next edition of the Cup," said Verma.
Clearly, the boy who loved skating and tennis had fallen in love with the game he was literally forced into by his father. By making it to the next U-19 World Cup and becoming Man of the Tournament, he showed he could be as stubborn and steadfast as his father was in his desire to make him a top cricketer. It's, of course, debatable whether Yograj was right in not allowing him to pursue the sport he loved and being the hard taskmaster that he was, but there's no denying the fact that he built a fantastic cricketer out of a boy who didn't like the sport in the first place. His obsession to see his son play for India, though, put a lot of strain on their relationship — Yuvraj likened him to a dragon and had a "closure" just a few days before he announced his retirement.
A power house
When he made his debut against Australia in 2000, a few months after helping India win the U-19 World Cup, he was noticed and admired for the power he packed in his strokes. The golf-like swing of his bat, the power in his punches, cover drives and slog sweeps to the cow corner left everyone gobsmacked. How was someone who struggled to clear the 30-yard circle just about five years back being hailed as one of the most powerful hitters of the game? "It could be attributed to a large extent to the forearm strengthening his father would subject him to everyday. He always had that powerful golf-like swing. With powerful forearms and a heavy bat, his shots simply flew off his bat," explained Verma. "During an U-16 match in Nauni at Solan, a fielder broke his wrist when he attempted to stop a rasping drive from Yuvraj Singh."
Just like the flamboyance, the brutal physical power he brought to the table was rarely seen in Indian cricket. And for more than a decade since his debut in 2000, precisely till India's triumph in the 2011 World Cup, Yuvraj ruled the white-ball cricket.
Over and out
Rohit Sharma hit the nail right on its head when he tweeted: "Yuvraj Singh deserved a better send-off." Of course, the winner of the three World Cups - U-19 World Cup (2000), World T20 (2007), the 2011 World Cup - and Man of the Tournament in all three of them, deserved to walk into the sunset from inside a packed stadium. Be that as it may, the Yuvraj Singh who won three World Cups for India had disappeared from the cricketing scene long time back, right after the World Cup when he was diagnosed with cancer. The Yuvraj Singh we had been watching after his battle with the dreaded disease was full of grit and determination. He made a comeback to the team quite a few times, but the touch and power that defined his game earlier was missing.
Nevertheless, to even consider playing again, let alone making it to the Indian team, was a bigger feat than making the cut for the first time. "How he fought back is simply amazing. One can't even imagine how difficult it must have been for him. I salute him for his courage and determination and wish him well," said VRV Singh. So do all his fans!
---
Yuvi's highest Highs...
World Cup triumphs Winning a World Cup is the dream of every cricketer. Yuvraj Singh won three — U-19 World Cup in 2000, World T20 in 2007 and then the 2011 World Cup. The icing on the cake was that he was Man of the Tournament in all three of them. A huge achievement indeed!
Six sixes in an over England's Stuart Broad is one of the finest bowlers going around. That, however, mattered little when Yuvraj smashed him for an incredible six sixes in an over in the World T20 in 2007. A few other batsmen, too, have done it but their feat came against much lesser bowlers.
NatWest Triumph Yuvraj was barely in the second year of his international career when he, along with Mohammed Kaif, fashioned that memorable win against England at the Lord's. The victory was significant — it was the beginning of the fearless brand of cricket that India would play in the years to come.
... and Lows
No success in Test The talented left-hander failed to replicate the success he had in white-ball cricket in the Test arena. Why he failed to do well in Test cricket despite his talent will remain an enigma. The left-hander feels the opportunities to break into the Test side were limited, and he didn't get enough matches at a stretch.
2014 World T20 final By his own admission, his laboured 11 off 21 balls in the final of the 2014 World T20 final against Sri Lanka was his lowest point. Because of his slow knock, India could post just 130 runs and lost the final. "It was so shattering that my career was over," said Yuvraj Singh.
All readers are invited to post comments responsibly. Any messages with foul language or inciting hatred will be deleted. Comments with all capital letters will also be deleted. Readers are encouraged to flag the comments they feel are inappropriate. The views expressed in the Comments section are of the individuals writing the post. The Tribune does not endorse or support the views in these posts in any manner.
Top Stories