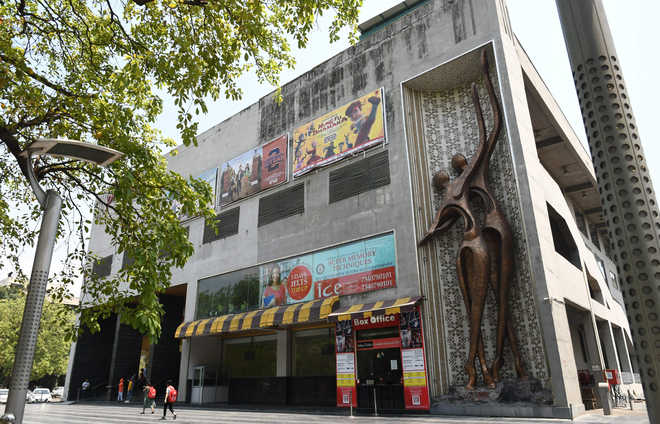 editorial@tribune.com
Cinema is one of the best source of entertainment for people to ward off their stress. It is indeed shocking that Chandigarh already has the highest tax on movie tickets as compared to other cities. Instead of offering a concession, the Municipal Corporation wants to give a blow to the public. If the civic body is starved of funds it can tap other sources to improve its financial condition.
Harish Kapur, Chandigarh
Don't take away entertainment
Levying 20 to 30 per cent entertainment tax on movie tickets is not warranted. It may mean more revenue for the Municipal Corporation, but less joy for the common man. As it is, people are stressed and harassed with increasing pressures of life and then we take away entertainment from them. Aim should be that the entire family should be able to watch a film happily without feeling a pinch. We are already selling water to people even at dhabas and restaurants (taken away the customary jug of water, which used to be on each table). And now, the skyrocketing price of watching a movie. Let's reduce taxes on the common person so that he/she can atleast live with dignity with his family. Increase taxes on liquor and luxuries. But let's not make watching film a luxury.
Colonel RD Singh (retd), Ambala
Will dampen spirit of movie-goers
Cinema is most favourite means of entertainment for the people from all segments of society. With the passage of time and modernisation, multiplexes have come up outdating cinema houses. As compared to cost of cinema tickets in previous years, rates for movie tickets at multiplexes are much higher and out of the reach of common man. Movie lovers have to cough up more for tickets for watching movies at multiplexes and also have to pay hefty parking charges for their personal conveyance. The Municipal Corporation's decision to levy 20 to 30 per cent entertainment tax will dampen the spirit of watching movies at multiplexes. This will not only hit business houses, but government will also lose revenue. Therefore, in the interest of the public the MC authorities must refrain from levying any taxes and let public enjoy their favourite entertainment without feeling a pinch on their pockets.
SS Arora, Mohali
Withdraw tax on movie tickets
Residents are already burdened with different type of taxes/cess, with no proper justification and logic. Similarly, having failed to get requisite funds from the Centre, the UT Administration and the Municipal Corporation have proposed to levy entertainment tax on movie tickets to garner more revenue for improving their financial condition, which is not justified. Whenever a particular party has the mandate, its every proposal/action is justified because there is no collective opposition/resentment from the public. Besides, an individual's resentment has no value. Under such circumstances both the UT Administration and the MC may give a serious thought on the entertainment tax proposal, which involves extra financial burden on residents. The same needs to be dropped as it is not justified.
AS Ahuja, Chandigarh
Tax on movie tickets a welcome move
Chandigarh has the lowest MRP on vehicles, fuel, alcoholic beverages, white goods, medical and health facilities. This is only due to the low GST charged on these items. Moreover, the cost of living in the City Beautiful is lowest in the country as also the pollution level. The entertainment tax hike on movie tickets is a welcome move. The city residents should consider the hike as a Smart City cess and not tax. The mindset of residents needs to be reoriented. How does an increase of Rs 15 per ticket affect a family of four, which visits a cinema hall once a month? Persons questioning this move seem to be out of sync with reality. Do they question fruit and vegetable or bread and milk vendor, who by increasing Rs 2 on an item drains Rs 20 from their pockets each day? Residents should involve themselves with the MC and help the authorities build and maintain our smart and City Beautiful.
Rajiv Boolchand Jain, Zirakpur
Weed out corruption before tax hike
Everyone is paying GST in Chandigarh. Proposal to increase entertainment tax by the Municipal Corportaion (MC) is not justified and will be an extra financial burden on the people. Before increase taxes weed out corruption. In fact, it would have been welcomed by city residents if the UT Administration had take an initiative to slash traffic fines like many other states, including Punjab. As far as generating revenue, people don't mind paying more if the UT Administration creates infrastructure for their benefit and invests in major projects such as Metro for the future generations.
Col Balbir Mathauda (Retd), Chandigarh
Totally arbitrary and unjustified move
The decision of the Chandigarh Municipal Corporation to put burden of excessive entertainment tax on the cinegoers is totally arbitrary and unjustified. Movie tickets in Chandigarh are already much costlier than other cities in the region. Besides GST, the proposal of entertainment tax at the higher rate of 20 to 30 per cent on movie tickets may directly hit the business at multiplexes. The Chandigarh Administration should intervene on this issue and advise the Municipal Corporation to abandon this disagreeable proposal of levying entertainment tax and compensate matching revenue from other means. It's the moral obligation of the MC to provide entertainment to residents by organising cultural festivals, art shows and various exhibitions on special occasions in the city rather than to curtail their means of amusement.
Bhupinder S Sealopal, Mohali
Already paying more for movie tickets in UT
The proposed entertainment tax on movie tickets is not correct and justified. It's against the spirit of one tax for one nation. Earlier, there was multi-taxation, which was removed with great efforts by successive governments. To generate funds, it is not correct to burden the public. Already we are paying more in Chandigarh for watching movies than other places. Once the GST has been imposed no other tax should be levied to maintain balance at all places.
Bharat Bhushan Sharma
Scrap tax proposal immediately
The proposal of the Chandigarh Municipal Corporation to levy an entertainment tax of 20 to 30 per cent is totally unreasonable and unjustified. Movie tickets in UT are already costlier than other cities. The GST is also charged on movie tickets. The proposal of levying entertainment tax by the Municipal Corporation needs to be scrapped straightaway. Moreover, owners of food and snacks stalls within multiplexes leave no stone unturned to fleece the cinegoers, who purchase eatables during interval. This issue needs to be addressed. Mineral water, chips, cold drinks of all sizes, branded ice cream, popcorns, tea and coffee must be available to residents at the market MRP in order to make their movie watching experience more enjoyable and memorable.
The focus of the Municipal Corporation should be on improving facilities at multiplexes instead of finding ways to extort more money from the cinegoers. Hygiene at multiplexes must be the top priority, besides taking care of all other basic necessities.
Rajender Kumar Garg, Zirakpur
reduce tax on movie tickets in ut
I am of the opinion that there is no justification behind increasing the entertainment tax when the GST is already charged on movie tickets in the UT. I would suggest that the existing tax on movie tickets should be reduced as it will benefit owners of multiplexes and cinema houses. Watching movies is the best source of entertainment for residents. So, the MC should refrain from snatching such means of entertainment from the public in the City Beautiful.
Tarlok Singh, Mani Majra
Public is already facing heat
Everyone knows that excess of everything is bad. It is duty of the government to provide all type of facilities to the public. Now, the time has totally changed. The MC does not think about welfare of residents. Most political leaders are selfish. They are always busy in their own vested interests and earn extra by this or that way. The public faces the heat as they have to deposit road, income and property taxes and pay the GST and fee at toll plazas. People also pay surcharge on each and every bill. It's injustice with the public if the MC collects more tax from cinema halls and multiplexes. Only lower and middle class watches movies in cinema halls. The cost of movie ticket should be reduced so that the general public can entertain themselves. The MC should also reduce parking fee at multiplexes and cinema halls. The entertainment tax should not be increased in the interest of the general public.
Sumesh Kumar Badhwar, Mohali
Why levy tax on movie tickets?
The proposed 20 to 30 per cent entertainment tax on movie tickets by the Municipal Corporation is unreasonable. Movie tickets are already highly priced in Chandigarh as compared to other cities in India. The GST Act implies one tax all over India. Imposing tax on tax on different names cannot be justified. The actual sufferers will be the people, who are already paying more for movie tickets and eatables at multiplexes and cinema halls in Chandigarh. The MC must first come up with a plan for using entertainment tax collected from the cinema-goers. The authorities must also give the reason for collecting entertainment tax.
Wg Cdr Jasbir Minhas (retd), Mohali
Middle class will be deprived of movies
Already multiplexes in Chandigarh charge exorbitant price for water bottles, popcorns, coffee, tea and other eatables, which adds to the expenditure of cinegoers. If the Municipal Corporation levies 20 to 30 per cent entertainment tax on movie tickets, then the middle and the lower middle class will be deprived of the entertainment through movies. When the GST is already charged on movie tickets, then there is no need of additional entertainment tax. Rather the MC should put its foot down on multiplexes and fix rates of eatables so that there is no exploitation of the innocent public at such places. Watching a movie is a common and cheap means of entertainment as compared to going to amusement/water parks. Moreover, in India we don't have many low-cost means of entertainment. So, the idea of charging entertainment tax on movies should be discarded.
Bir Devinder Singh Bedi, Chandigarh
Will burn a hole in pockets of cinegoers
The imposition of entertainment tax on movie tickets is not reasonable as the GST is already charged on the same. The film industry will definitely suffer losses as the tax will burn a hole in pockets of cinema-goers, who often go to malls for watching movies at the weekend. Entertainment tax will certainly reduce business of big multiplexes and cinema houses because most people visit numerous such places for enjoying the first show of any film on the first day.
Nakhpreet Kaur, Sanghol
Footfall will reduce at multiplexes
I nostalgically recall enjoying movies 'Aarzoo' and 'Waqt' sitting cosy in a balcony at 'Neelam' and 'Jagat' cinema houses at the rate of Rs 1.25 per ticket in December 1965. Over the years, there has been an invasion of electronics for entertainment. I still visit a cinema house as it retains the charm, but it does not qualify as luxury. Overhead costs in running cinema are mounting. The imposition of 20 to 30 per cent entertainment tax on movie tickets is unreasonable and will adversely affect footfall. It will not only deprive people to easily evade monotony in routine, but also kill the movie industry. The proposal ought to be nipped in the bud. Ever-escalating cost of governance is depleting the public purse. Our PM advocates maximum governance with minimum government (and taxes to run it). To augment revenue the Administration and the MC need tax liquor, petrol/diesel and movie tickets at par in the tricity, which will also curb malpractices.
Lalit Bharadwaj, Panchkula
Unwarranted tax is bad governance
As per legendary 'Chanakya', the farther of Indian economics, "any unrealistic and unwarranted tax on people, which pinches more, is bad governance". Movie tickets in Chandigarh cinemas are much costlier than other cities. Besides, the people are not allowed to take their water bottles and any other eatables inside cinema houses and multiplexes. Water bottles and other eatables are sold two to three times the MRP at multiplexes and cinema houses. Movie-goers are already taxed heavily for entertainment. Why the Municipal Corporation is allowing this loot at movie theatres and multiplexes? It is understood that taxes are to be increased gradually, but 20 to 30 per cent hike is unrealistic, unwarranted and illogical. An increase of five to 10 per cent is quite tolerable with conditions that eatables and water bottles sold by cinema canteens must match the MRP. When there is no entertainment tax on Ramlilas, clubs and restaurants showing movies, which is also public entertainment, why the Municipal Corporation impose taxes on people on cinegoers?
Capt Amar Jeet Kumar (retd), Mohali
Austerity can solve financial issues
As the cost of governance is increasing every month/year, there is need to order manpower audit and reduce wasteful expenditure by 30 per cent. Presently, the Chandigarh Municipal Corpration collects Rs 525 crore as taxes and spends Rs 495 crore on salaries/pensions. Very little amount is left for maintenance and expansion of the infrastructure. The increase in tax rates will further burden tax payers. Adopting austerity measures will help in solving financial problems in the long run otherwise it will become a chronic disease.
KC Rana, Chandigarh
Anti-people policy of civic body
Increasing the entertainment tax component of movie tickets is yet another anti-people policy of the Municipal Corporation (MC). Movie-going habit of city residents is already on the wane due to various reasons. It appears that officials of the Municipal Corporation did not do their homework before coming up such an unproductive and equally irksome proposal. Gone are the days when there was hardly any other source of entertainment and people used to throng ticket windows of cinema halls. Sensing the downward trend cinema halls gave way to multiplexes in an effort to attract people to watch movies at halls built within malls. High rates of ticket and eatables at multiplexes and cinema houses and mediocre quality of entertainment offered in present day movies gradually dispelled cinegoers. Raising entertainment tax on movie tickets will compel cinema hall owners to down their shutters and switch over to some profitable business, which again is hard to find in the present economic slowdown. The MC will do well by stopping this misadventure in the larger interest of the affected people.
SC Luthra, Chandigarh
Don't harass public
Imposing entertainment tax along with the GST by Municipal Corporation (MC) is totally unjustified. It is only a way to generate revenue as the MC is passing through financial crunch. It will burden residents' pocket as masses are going to stop watching movies. The MC needs to control undue expenditure on foreign tours, tea parties at events and on many more accounts rather than harassing residents.
Abhilasha Gupta, Mohali
Decision needs to be condemned
The Municipal Corporation's decision to levy extra 20 to 30 per cent entertainment tax on movie tickets in Chandigarh needs to be condemned by one and all. Why this illegal tax when we are already paying hefty GST on movie tickets? Already, a movie ticket does not cost less than Rs 200 in the City Beautiful. And during interval, one has to pay Rs 500 for an ordinary burger and a cold drink, which in the market is available at not more than Rs 70. Instead of checking this illegal practice, the MC is filling its own pockets. Shame on the authorities concerned! For this reason, the nation's GDP has fallen below five per cent.
RK Kapoor, Chandigarh
Multiplexes must adjust ticket rates
Movie outings may burn a hole in your pocket in the days to come as the Chandigarh Municipal Corporation (MC) is all set to bring in entertainment tax on movie tickets. The MC has proposed 30 per cent entertainment tax on movie tickets sold at multiplexes in the City Beautiful. For single screen theatre, however, the proposed tax is 20 per cent for tickets priced up to Rs 100. Besides, Rs 250 per show will be charged from multiplex owners for screening movies. At present, multiplexes charge between Rs 130 to Rs 250 per ticket, with a few charging even Rs 600 per ticket. The proposed tax is set to pinch the pockets of movie-goers. Multiplexes must adjust their ticket prices within the existing rates after the imposition of the tax. The practice of levying entertainment tax was discontinued two years ago after the GST was introduced. The government must seriously consider not to impose some taxes as these may burn a hole in pocket of common citizens. Tax payers are already burdened with so many taxes paid by them to the Central and state governments.
Sanjay Chopra, Mohali
MC should rationalise income, expenses
Not a bottle of water or loaf of bread shall escape taxation. This was said by Winston Churchill while the Independence Bill for India was being debated at the British Parliament in 1947. To some extent Churchill's remarks seem to have come true. Today, we pay the GST, which should have brought single taxation for the whole country, on every item. Now, the Chandigarh Municipal Corporation has come up with a proposal to levy 20 to 30 per cent entertainment tax on movie tickets on which GST is already levied. The move seems to counter MC's fiscal crisis. Instead of coming up with new tax the MC should curtail its wasteful expenditure. The MC should conduct audit of its workforce, which seems to be in excess. Despite having so many employees at its disposal the MC is unable to maintain parks and cleanliness in the UT. Besides, costly movie tickets at multiplexes and cinema houses, price of eatables sold at these places in much higher than the actual MRP, which makes entertainment beyond reach of many people. The need of the hour is rationalisation of income and expenses by the civic body. The new tax proposal on movie tickets must be scrapped immediately.
HS Gill, Chandigarh
It's a futile effort of the Municipal Corporation to charge 20% to 30% entertainment tax when the GST is already levied on movie tickets. It is against the spirit of one nation, one tax. The civic body, instead of imposing new taxes, should utilise the existing resources at its disposal. RK Garg, RTI activist
It is really uncalled for. On everything, whether it is eating, buying or travelling, there is tax. If the police do not perform their duty or if the Municipal Corporation does not do civic work, will they pay tax? Why is the common man burdened with new taxes every day? KL Aggarwal, president, Manimajra MSC duplex houses Assn
The agenda will come up or discussion at the House meeting of the Municipal Corporation. All councillors will present their views on levying entertainment tax on movie tickets at the meeting. Only then we will be able to decide whether the new tax should be imposed on movie tickets in the UT or not. Rajesh Kalia, Mayor, Chandigarh
It's not justified. The MC should help make lives of residents comfortable, not tough. The authorities concerned have failed to provide better roads and improve water supply in the City Beautiful. Then, why do they take a lead in imposing new taxes on people. Dikshit Arora, advocate
Movie ticket rates are already skyrocketing. The authorities should work on bringing the unreasonable rates of food items at multiplexes down rather than enhancing the ticket prices further by imposing additional taxes. The entertainment tax will ultimately be borne by consumers only. Neha Sharma, college student
QUESTION
Many BJP-ruled states, including Gujarat, have decided to reduce fines under the amended Motor Vehicles Act. Haryana, too, has put hefty fines on hold for the time being. Punjab is yet to implement the amended MV Act. Do you think the Chandigarh Administration should continue with the increased fines or rethink on it?
Suggestions in not more than 70 words can be sent to openhouse@tribunemail.com
Cities