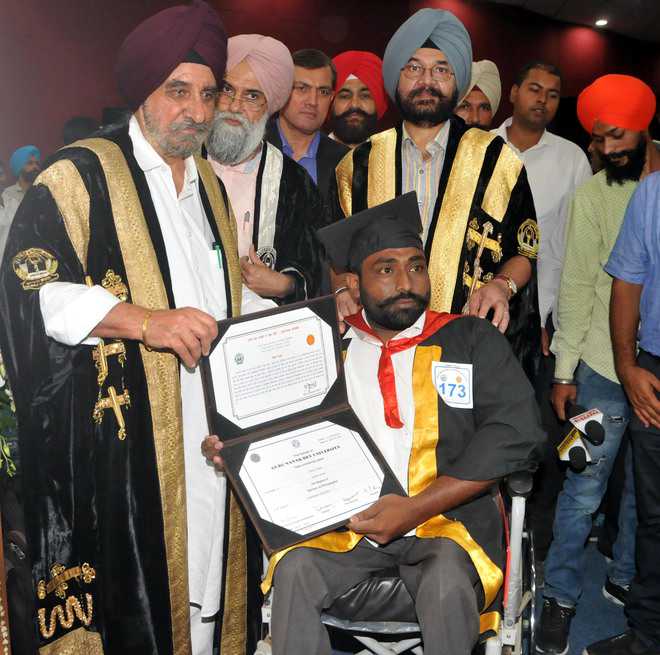 editorial@tribune.com
Divya Sharma
Tribune News Service
Amritsar, July 19
For 32-year-old Jaspal Singh, it was a memorable day. The polio-stricken scholar received his PhD degree from dignitaries who came down the podium to celebrate his academic success amid thunderous applause during the GNDU Golden Jubilee annual convocation on Friday.
He received the degree of doctorate in philosophy (languages), Punjabi.
Suffering from polio since he was four years old, Singh made sure that his disability did not deter his spirit to lead a normal life. He wants the government to ensure his employment and feels that a sound infrastructure for the disabled is the need of the hour.
"I remember my mother carried me in arms on the very first day of my college life. My family has always been supportive. My guide, Dr Darya, showed immense faith in immense. It is a memorable day. I faced multiple difficulties to complete my education," shares Jaspal Singh.
The junior research fellow wants the government to secure his employment to motivate others like him. "The government should help me find a suitable job. It will inspire others to work towards creating a better life," he says.
"I have personally faced a lot of difficulties. Ramps and wheelerchairs must always be made available for people with disabilities. This will increase the number of disable students in classrooms. My friends and teachers have been helpful," he adds.