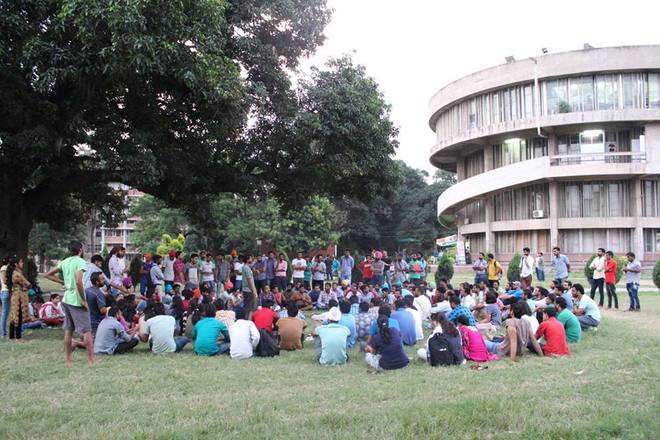 editorial@tribune.com
Amarjot Kaur
A group of students is stirring up a cultural revolution of sorts at city's Panjab University (PU), with People's Artist Forum (PAF) questioning the wakhra swag of this otherwise fund-crunched varsity's 'larger-than-life' campus culture. Formed by a seven-member committee in 2014 PAF's Facebook page, the cover photo of which is Punjab's revolutionary poet Lal Singh Dil and one of his musings on casteism, has 1,834 followers.
One of its co-founders, 26-year-old Gurpreet Doni aka Gurpreet Sarkari from Dhanaula, did masters in Punjabi from PU and awaits the result for the PhD exam he recently sat for. "We organise music, theatre and poetry events. Some of our members have a dual membership with Student for Society (SFS), but we are not a political group. We are a cultural group, open to students and outsiders. In 2014, Jagjit Nikki, Arpan, Raman, and I initiated PAF. Later, Gurpreet Singh Saroud, Amritpal Singh, and Navjeet (Lovely) Singh joined in," he shares.
Doni informs PAF often takes its events to villages on the outskirts of Chandigarh. "We pull out our daff after the event gets over, if people like it they pay us. We organise poetic evenings every month and a theatre show once in six months," he adds.
Twenty-five-year-old Ramanpreet Singh from Sangrur studies at the Laws Department of PU. A committee member of PAF, he says students who earlier did cultural events for SFS formed the forum.
So, is PAF a mouthpiece for SFS? "Not at all; it's a separate entity with a similar ideology. Our aim is to build a platform for progressive and revolutionary arts," he replies.
Ramanpreet adds PAF aims to educate freshers about student politics and nagging socio-political issues. "Earlier, there was no protest culture in PU. Through art, we educate gullible student voters that are new to PU." Gurpreet Singh Saroud, forum's co-founder and a student at university's Centre for Social Work chips in, "Most student parties organise DJ events near Student Centre. They play Punjabi songs that boast of casteism and objectify women. SFS doesn't do that and we can't help it if it supports our ideology." Jagjeet Kaur Nikki, 28, from Ludhiana is among the founder-members of PAF who have a political affiliation to SFS. "I joined PAF because I want to be a part of the progressive art scene at PU. Art is changing the atmosphere here and it will change PU's culture too," she shares.
In their syllabus
There is no bar on the language and the artistes range from a young girl taking on patriarchy to a middle-class student facing police lathis for protesting against fee hike. "We often perform at the Student Centre or at lawns near AC Joshi Library. Our events are attended by 100 people at times," says Saroud, who hails from Malerkotla. A poet at PAF for two years, he shares, "The idea behind PAF was to counteract PU's elite culture, especially the pomp and show that rich and well-connected kids bring along with their branded clothes and fancy cars. Also, we've been particularly critical about subjects and content of Punjabi songs that glorify violence, gun culture, objectification of women and boast of jatt pride."
"We are creating an alternative platform to criticise songs that show Punjab's culture in poor light. We also take references from revolutionary poets of Punjab like Paash, Lal Singh Dil, Surjit Patar and Surjit Gag, among many others, to create a sort of cultural consciousness among students. There are only two conditions: first, content of songs and poetry should not promote casteism, like songs glorifying jatts; and, second, they should not demean women," he says. amarjot@tribunemail.com
Joining the revolution
Another founder-member of the forum Arpan (27), who works as a nurse at PGI, does theatre for the forum. She says, "I did masters in Punjabi from PU. While doing a play on student politics as a part of campaigning for an SFS candidate, we were told that other parties went to the dean and asked for the play to be stopped. I think PAF's existence in the campus is affecting people." Poets Param Veer Singh and Mahatab Singh draw references from the history of Sikhism in their poetry. "We like the fact that at this forum we can recite poetry in our mother tongue, be it Punjabi or Haryanvi," they share. Also, Saround informs that a couple of artists studying at the Government College of Arts-10 design posters for them too.