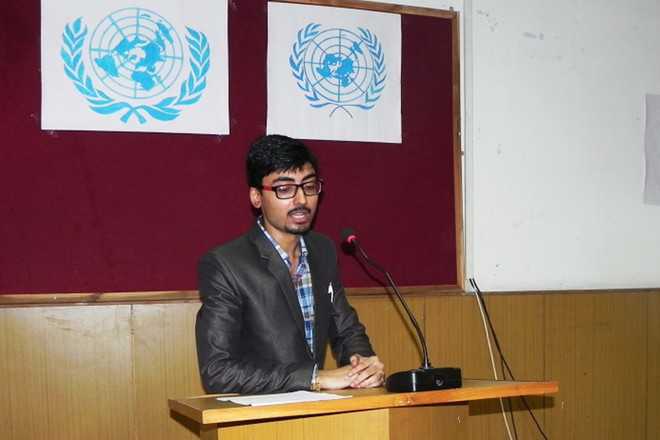 editorial@tribune.com
The Department of BA, Dogra Degree College, on Tuesday organised a mock UN summit on climate change in the conference hall of Dogra Educational Trust. The event was organised to make students aware of how the countries all around the world perceive the threat of global warming and climate change and what steps were taken by them to solve this problem. The event started with the introductory speech of Vijay Shan, Lecturer, Political Science, followed by the speech of Itika Kaur, a student of the college. Students of the college namely Azhar, Arif, Nikhil,Shivani, Amol, Abhishek and Barkha also helped Vijay Shan.
New unit at Jammu varsity
In order to streamline the verification of documents/certificates/degrees issued by the University of Jammu (JU), a new unit (nodal point) is constituted in the examination wing by the Jammu university to ensure that the verified documents will get issued within seven days to person/agency concerned. The unit will be responsible for entire process of verification and dispatch of verified documents.
Final round of counselling
The final round of counselling for admission to PG/M.Ed/Integrated M.Ed for session 2019-20 will be held by the Cluster University of Jammu (CLUJ) tomorrow (September 11, 2019) at the School of Sciences, GGM Science College. However, the classes in the constituent colleges for Undergraduate courses have already begun.
Lecture on literacy
In order to raise the awareness of literacy issues being faced by people all over the world, a lecture on International Literacy Day was conducted by the Army at Middle School, Seyal, today. A total of 60 students and four teachers of Middle School, Seyal, participated in the event which received an overwhelming response. International Literacy Day is celebrated to make people aware about the importance of literacy for individuals, communities and societies, besides the need for intensified efforts towards more literate societies.
Cities