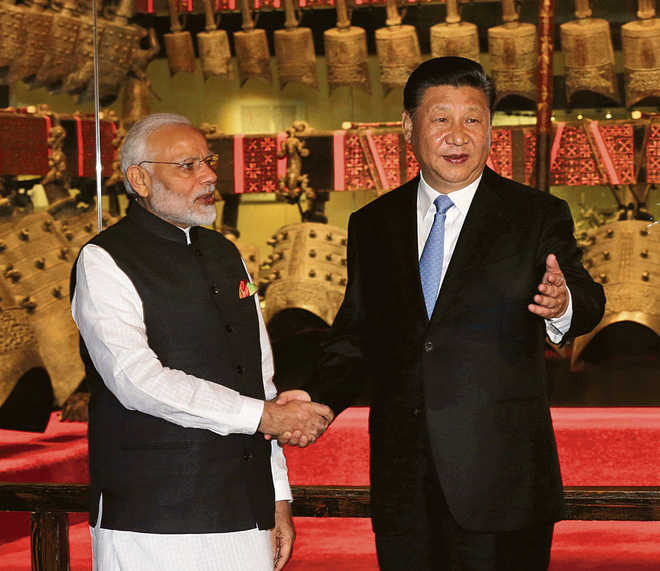 vinaymishra188@gmail.com
Sandeep Dikshit
Tribune News Service
New Delhi, October 9
India and China ended uncertainty on the second informal summit, announcing that Chinese President Xi Jinping would visit India on October 11 and 12. Xi will meet PM Narendra Modi over two days at the beach town of Mamallapuram near Chennai where they will have two rounds of one-on-one discussions, besides a session of delegation-level talks.
An immediate outcome will be to pack more muscle in confidence-building measures for ensuring peace and tranquillity on the border. "At the end of it, our objective to ensure communication between leaders is routine, easy-going and getting down to business through several hours of discussion," said government sources here.
Having been in power for five years, both leaders have a fair knowledge about the ties which will enable them cover a number of subjects. Xi will be accompanied by two heavyweights on foreign policy – politburo members Yang Jiechi and Wang Yi – besides senior officials, offering the possibility of these leaders engaging with External Affairs Minister S Jaishankar and National Security Adviser Ajti Doval, who will also be present.
"The objective is similar to Wuhan — the meeting will be devoted to building contacts at the highest level, exchanging views on overarching issue and creating a broad direction for progress in bilateral relations," said sources. On the trade front, deficit remains a matter of concern. Though there has been some improvement on non-tariff barriers leading to exports of soyabean and tobacco leaves, India feels it is yet to translate in any meaningful way in terms of value or volume.
There will be discussions on Indo-Pacific, defence and security and examining if mechanisms on the border are adequate to ensure peace and tranquility. Modi and Xi will also discuss global institutions and the need to make the UN more relevant and reforming the UNSC. They will touch upon challenges to the WTO, especially the selective walking back from global trade arrangements. "We both share similar positions though they are not necessarily identical,'' underlined the government sources.
"The meeting will signal that the two are getting down to business in a practical manner, not like in the formal format,'' they added.
The two leaders will also not shy away from airing irritants in the relationship, such as incursions or the logic behind abrogation of Article 370 in Jammu&Kashmir and how it will have no bearing on India's external boundaries. However, while explaining the position on Article 370, PM Modi will also point out that it is India's internal matter, not open for discussions or any third-party mediation.