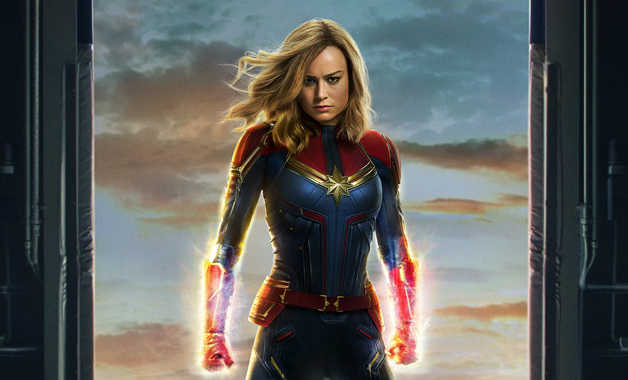 Johnson Thomas
Disney's latest Marvel adaptation, Captain Marvel gets a little too convoluted to be invigorating. Brie Larson, gets to be in the very first full-length Marvel feature for a female superhero but it's by no means a Wonder Woman turn. A sci-fi adventure trying to up the ante with secret service kind of thrills while assuming a riff on Marvel conventions, this film is fairly modest in its engagement.
Vers aka Carol Danvers (Larson) wakes from a dream–she is a pilot doing a test ride and at the shattering end of a battle she lost. She wakes up, faint in memory and flickers through a series of visions that show her as a blue blood, a member of Kree and working for her deity The Supreme Intelligence.
Cut again to another set of memories and she is a different person altogether. It's hard to figure out–Danvers doesn't have a clue but she is hanging in there. For the audience though, it's difficult to connect to this original story that has its roots in the Kelly Sue DeConnick authored Marvel comic book series.
The characters don't achieve what amounts to a visual halo. They are neither presented with any great defining moment nor do they make the action look inspirational. The film may not be boring exactly but the thrills are definitely at half-mast. The plotting lacks imagination, the visual style doesn't add any interest and even the other departments feel jaded and tame. Period-appropriate musical cues from Salt-N-Pepa, TLC and Nirvana lend vein to a brief lift in mood though. The writing, dialogue and direction lack that special touch that could draw you in completely. The stray strands of humour doesn't make it to funny all the time. In fact the only running joke (albeit tiresome after a point) that hit the right note was earthlings reliance on dial-up internet connections and painfully slow computers as opposed to high-tech weapons of the Kree and the Skrulls.
The non-linear style leading to a series of flashbacks and flash-forwards makes the narrative look confusing. There seems to be distinct lack of logic and cohesion leading to quite a bit of chaos here. With too much of time being spent trying to unlock Carol's past, the film ends up having very little to do in the present (1990's on an earth-like planet C-53). Samuel L. Jackson's Fury, in a recast, youthful look (minus the eye-patch), also seems a little puzzling. Shaving off several decades (cinema age) worth of his appearances in six Marvel films, this post-production special effect, in fact appears the most dramatic in a film largely devoid of extraordinary thrills and excitement!