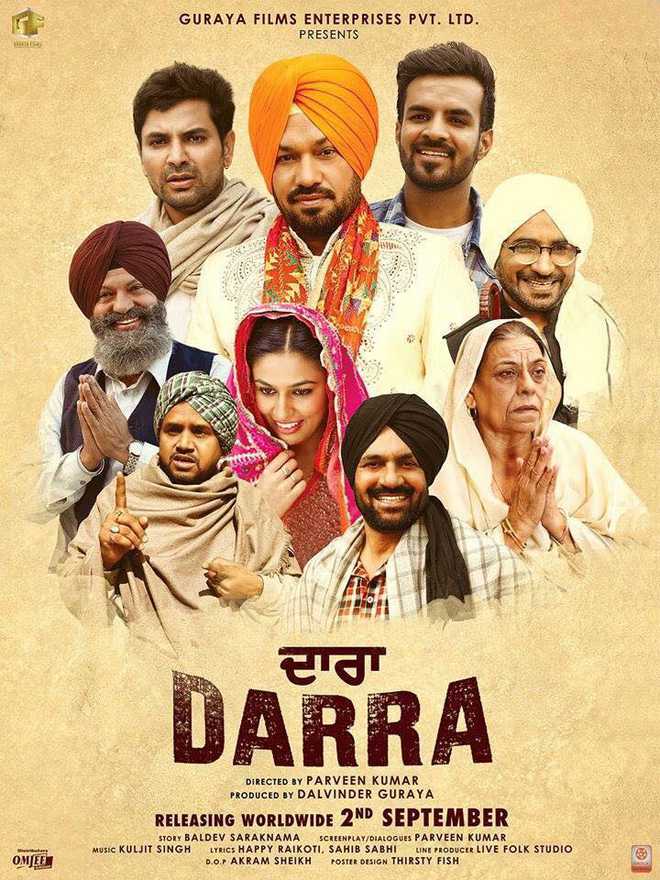 Jasmine Singh

Darra, this week's Punjabi film release creates history, by being an exclusive movie to run without any storyline - from beginning to the end; well, not even a pinch of it. Directed by Parveen Kumar and written by Baldev Saraknama, the film has a battery of actors - Gurpreet Ghuggi, Shivander Mahal, Nirmal Rishi, Pammi Bai, Kartar Cheema, Happy Raikoti, Manpreet Saggu, to name a few. We will save you from a lot of trouble, and, trust, you will thank us all the way.
The dialogues and screenplay are by Parveen Kumar or should we say the missing screenplay! Like we said, we'd bail you out from Darra - three brothers, one mother, one bhabhi, one sarpanch, two love interests, one marriage, lot of songs, lot of smiling, one singer-actor always singing lines from his own tracks, lot of smiling and that's it! There is nothing much to be spoken about Darra because darra is equal to darr.
This film beats even Hum Saath Saath Hain! The introduction of characters goes on for almost an hour, followed by songs, laughing and songs. About the actors; first, what made Gurpreet Ghuggi say yes to the film? Two, why does Pammi Bai not look into the camera and say his dialogues? Why does Happy Raikoti have to remind us that he is a popular singer?
Why is Kartar Cheema smiling ear-to-ear for no reason? Why can't prolific actors like Shavinder Mahal and Nirmal Rishi go beyond the stereotype roles? And the most important, director saab, where is the story?
Darra doesn't ring a bell; in fact if you haven't seen a 'pind da vyah da' video, then see this one happy family who smiles and smiles...making us cry and cry.

jasmine@tribunemail.com


Top News
PM Modi joins launch of 13-nation pact for economic resilience in Indo-Pacific
India committed to working for an inclusive & flexible IPEF,...
Modi-led Inter-State Council reconstituted
PM to lead Int'l Yoga Day celebrations