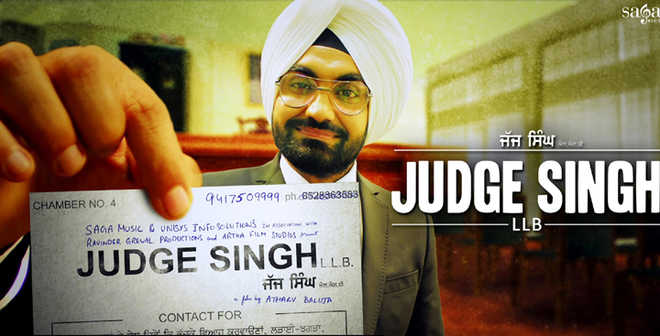 Jasmine Singh
All rise…to see Punjabi film Judge Singh LLB, which is a first Punjabi courtroom drama that has dollops of suspense and a decent seasoning of humour. Directed by Atharv Baluja, the film stars Ravinder Grewal, BN Sharma, Sardar Sohi, Chandan Prabhakar, Hardeep Gill, Anita Devgan and Surbhi Mahendru in the lead roles.
This is director Atharv Baluja's second film after Aiven Raula Pai Gaya, which also starred Ravinder Grewal as the lead. Atharv, who has co-written the script with stand-up comedian, actor Chandan Prabhakar, has laid down a crisp storyline of the film. The dialogues are witty, serious and to the point. The director, who seems to be inspired by a number of courtroom drama series, has tried to show realistic court scenes, throwing in enough suspense, which is only revealed towards the end…thankfully!
Judge Singh LLB only has a faint resemblance to Jolly LLB in some scenes, but it still doesn't look copied. The film catches pace towards the second half, where all the suspense is established. The first half, however, has more melodrama, which could have been cut short a wee bit. The other misplaced element in the film is the background score, which one feels is out of sync.
Judge Singh LLB is a film where the director has given each character sufficient space to perform and be noticed. And the four actors who deserve a shout of praise are BN Sharma, Sardar Sohi, Ravinder Grewal and Chandan Prabhakar.
BN Sharma as paape (father) has done a fabulous job. However, one sees him swaying far and beyond in emotions in some scenes, something the director should have kept a check on. Sardar Sohi as the villainous lawyer and TS Brar are likeable from the word go! Brar does a Chadha Saab of Hindi film Damini with such 'negative' perfection that he actually ends up demanding more attention than the lead actor, Ravinder Grewal. As for the judge of the film, Judge Singh LLB, Ravinder fits in his character well. His growth from a dumb to a smart lawyer is worth a pat. This can definitely be called as Ravinder Grewal's best performance…The industry gets another actor another judge with the film. Another actor who has brought in humour in the right proportion is Chandan Prabhakar. He has done a fabulous job. Actors Hardeep Gill and Anita Devgan could have been used more and in a better manner. These two fine actors of the industry have been completely wasted in Judge Singh LLB. If you think we haven't spoken about the lead actress, Surbhi….yes, we haven't!
The music of the film is something you would like; again it wouldn't pull your attention much, but the suspense will not let you move a bit. Apart from that, the director has added singer-actor Balli Riar's special appearance, who returns to the silver screen after a long time, which does fit the bill and is refreshing.
With things in order for Judge Singh LLB, this one definitely is a bail-out from the usual storylines. The judge seems to have proved his point, albeit with minor hiccups!
Top News
Khalistan sympathiser appeals to Akal Takht chief to call 'S...
BJP leaders attack the Congress, accusing the party of invit...
Ten women and a man died in the accident, state home ministe...
Several vehicles torched, shops ransacked on Thursday evenin...
India reports 40 per cent jump in new Covid cases