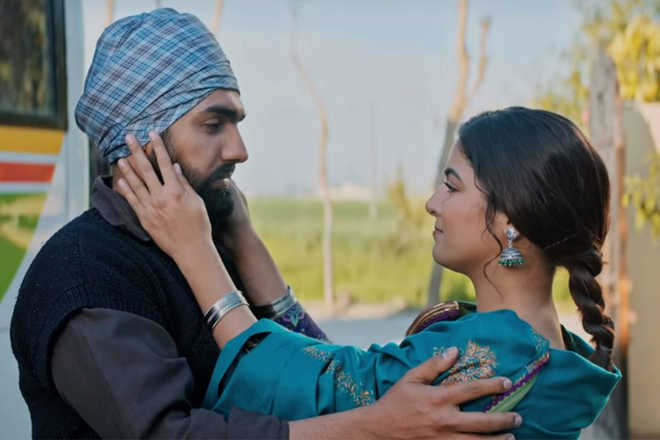 Gurnaaz Kaur
Being the third instalment of Nikka Zaildar, which was first released in 2016, there are many expectations from this film. The good news is, you won't be disappointed. Ammy as Nikka is one of the most loved characters of Punjabi cinema. The common point of the previous two movies, which is a love triangle, has been carried forward in the third part, too. But in this one we have the trio of Ammy Virk, Wamiqa Gabbi and Sonia Kour. The storyline is independent of the last instalments.
The first one was a blend of romance and comedy, second was a romantic, emotion-laden story and now, the third one a laugh riot. From the word go, you'll laugh through the entire movie. Every character is centre to the story, making everyone an equal hero but it is Nikka, who is responsible for the madness, all thanks to his love for Palo (Wamiqa Gabbi).
Sardar Sohi plays Bhaag Singh, the head of a landlord family with three sons and one daughter. A penny-pincher, even after having enough money, he does not believe in spending it on his family's well-being. He makes his sons and grandsons work to no end. A strict, overbearing person, no one in the family takes the risk of saying no to him or going against his wish. Nikka is a complete reverse of his grandfather. He is simple, innocent and doesn't believe in hoarding money. One day, Bhaag Singh gets robbed and he dies in shock.
Now, this is where the real story begins. The family spends exorbitant amount on his final rites and Bhaag Singh's spirit enters Nikka's body to express his anger over spending his hard-earned wealth. The struggle for the family begins. They go from one sorcerer to another, one Baba to another to free Nikka from the possession of his grandfather.
In all this, Nikka has his fun time as all his demands are met but he also goes through a lot of trouble visiting different spellcasters. These experiences are a complete laughter ride but there are struggles Nikka is dealing with because of his love life. He gets rejected by Wamiqa for he is possessed. Then, when he falls in love with 'chimtewale baba's' daughter, he realises it's all the more complicated.
The tale may sound totally senseless but there is a message embedded in it. Going to the Babas, being superstitions only creates chaos. While as viewers, we enjoy the mess, those going through it pay a heavy price.
Ammy Virk steals the show with his performance. Wamiqa fits the role of a poetess with her own quirks. Sonia too does a decent job. Nirmal Rishi, Sardar Sohi, in fact, the whole family, have played their parts well. The music adds to the story and is enjoyable. Technically sound, the direction also gets the thumbs-up. It's only at the end where the story gets loose and leads to an anti-climax.
Top News
Hundreds are still believed to be trapped under rubble, and ...
Aftershock felt as far as eastern Mediterranean island natio...
Some purported statements of the lawyer, allegedly against M...
It will enable India to meet its entire requirement of helic...
Said the country should know what power is behind the billio...