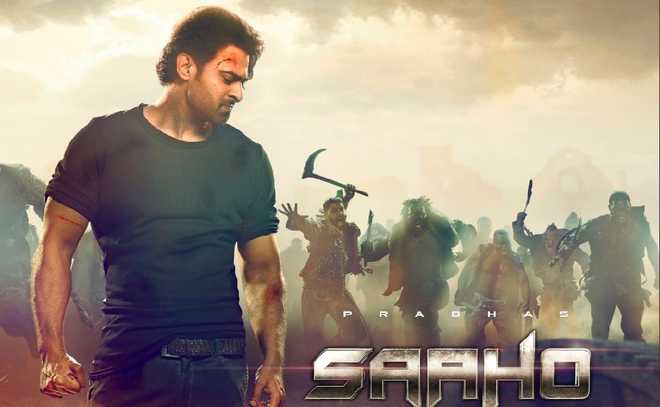 Nonika Singh
With Baahubali, he successfully bridged the north-south divide. In Saaho he lip-syncs to the song Enhi Soni Kyon Lage Tu….and even utters word like sohni kudi. Telugu superstar Prabhas even with his accented Hindi wins our hearts easily. Kis state se aaya hoon… by now we all know the answer to that, so he gives it a spin, dry state se, not meant to be taken seriously though. In mega-budget Saaho, masquerading as an undercover cop who can't take his eyes off the female officer in uniform Amritha Nair (Shraddha Kapoor looks lovely), his romance and chutzpah endear you to his starry charisma.
That the film will both ride on his shoulders as well as showcase his superstardom too is a given. What is surprising or perhaps not, is that he will continue to be cast in the Baahubali mould aka as a superman who can take on a battery of musclemen.
In the 21st century, we are taken to a fictional land Waaji where Roy conglomerate of crime world reigns. The head, Roy (Jackie Shroff in a decent cameo) has as many bête noire (Chunky Pandey is impressively devilish) as admirers. He dies and soon enough the war that breaks-out for his seat moves beyond the boardroom.
The narrative cuts and intercuts between India and Waaji, exotic locales doubling up as the imaginary place. While you can't help but admire the ambition and scale of Telugu cinema and its young director Sujeeth, you also grudge him for his inability to snap out of admiration for larger-than-life Baahubali frame.
The phirang army that he builds up to justify action has flashes of the blockbuster. Not surprising, the film works better in the first half where chor-police game has your attention. As it rolls into the second half, it is more an action juggernaut let loose aimlessly.
To criticise an action-thriller for too much action is perhaps an oxymoron. But with a clutch of action and stunt directors, including action director Kenny Bates of Transformers fame on board, you expect to be swept away by the force and magnitude; instead you are face-to-face with flying cars, falling buildings and some endless breathless chases. All you can wonder about amidst this mayhem is whether Rohit Shetty has competition, not necessarily by way of compliment to either.
The film ends up as unchained sequences of action that neither gel together nor awe or inspire you. Action might have been lavished on a grand scale but seems superimposed upon a story that has little bite, some thrill and a couple of zany one-liners too. "Hey, guys, where is the opposition?" and you can sense the undercurrent. Then there is a reference to GoT and one of its iconic dialogues, Jon Snow knows nothing, as well as a pun on diehard fans. But such intelligent intervention is merely a decoy to hide a ludicrous plot and becomes rarer as the film progresses and lands on familiar ground with familiar tropes.
Masala entertainers are ok, even welcome. But what gets to you is not just the length of the film. The incessant flinging of human bodies, nauseating cracking up of skulls, ceaseless and purposeless violence finds a match in illogical twists and turns stitched together incoherently. At two important interjections, the superstar tells us, it is show-time. We are waiting… strictly for action zombies and diehard (we too intend the pun) Prabhas fans.
Top News
He said people had not elected him to listen to 'hate speech...
Lok Sabha Speaker warns Bidhuri of strict action
India has also lodged a strong protest in New Delhi and Beij...
No 'special exemption', says Biden adviser
Tensions flared between India and Canada early this week fol...