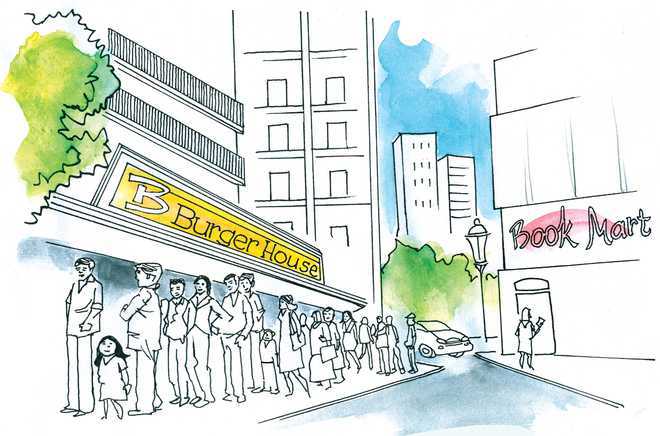 Shiv Sethi
Books are the chief defence of a society. Any generation that does not buy books cannot nurture its intellectual capacities. These days, youngsters do not mind spending a lot of money in ritzy showrooms and restaurants, but they become miserly when it comes to spending a small amount on a book. Therefore, most bookshops are on their last legs. One such bookstore in Ferozepur, once the darling of the community of readers, is now on the brink of closure. The condition of this desolate bookstore is like a barren garden of leafless and lifeless trees.
The present era of e-books and e-newspapers has played havoc, taking away the age-old glory of this bookshop. Observing the fate of many such old bookshops, a lover of books can painfully conclude that our society is going to witness a paperless era. The death of paperback books and broadsheet newspapers seems in the offing. The spectre of the crumbly building of the beloved book depot turns me nostalgic. Passing in front of it, I am instantly transported to my childhood days when I had forged a rapport with this ever-flowing cascade of knowledge. Visiting the bookstore every weekend was one of the passionate practices I devoutly stuck to for years. During my frequent visits to the place, I had also developed a special bond with its old, bespectacled owner, who would always welcome book lovers with a broad smile.
Many co-buyers I would bump into were also no more just formal acquaintances. A camaraderie would soon develop with them. Unlike the modern-day friends on various social media forums, they were easily accessible for friendly gossip anytime. Adjoining the bookstore was a makeshift teashop, where buyers would often assemble and have healthy discussions over their recently read and newly bought books. The thought-stirring discussions, coupled with cups of hot tea, would stimulate creative thinking.
The book depot has a rich historic past, tracing its origin back to the British era. In its prime, the store had a vast collection ranging from immortal classics to modern-day books. A large swarm of buyers would arrive every day to get their hands on their favourite reading stuff. But the advent of technology ruined the place of its past glory.
A few days ago, I got emotional while watching a short silent film, Kitab. The film mourns the declining habit of reading among the youth and takes a dig on their digital reading preferences. Perhaps it is the last century of hard-bound books and broadsheet newspapers.