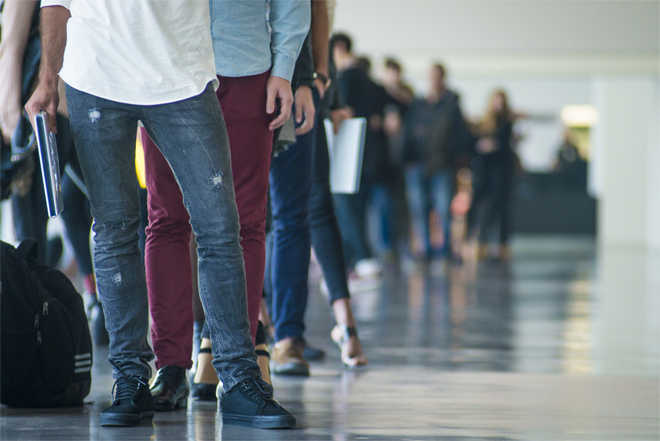 KR Bharti
Although the pakora metaphor used for self-employment by PM Modi has been blown out of proportion by political parties, it remains a fact that the jobs created do not match the number of unemployed, leading to large-scale joblessness.
Himachal Pradesh is no exception. Youths have degrees, but no jobs. About 9 lakh persons stand registered in employment exchanges of the state, which has a population of just 68 lakh. In Himachal, there is much craze for government jobs, even though the salary is far less as compared to the private sector.
One evening, when I returned home from walk, I got a phone call from a person who I could not identify. 'Sir, guess who am I?' he put me in an embarrassing situation. 'Sir, last year we had met at a literary function in Shimla. I had read out a short story which you were highly appreciative of....'
'Oh that is you, Narinder,' I said making him believe that I had recognised him. 'How come you called me today?' 'Sir, I have a request," he said hesitatingly. 'Please don't feel shy and tell me what I can do for you,' warmly I said.
'I have applied for the Class IV post of a maali-cum-chowkidar in the HP Secretariat, for which interviews are going on. Thousands of candidates are appearing for about 60 posts. Please see if you could put in a word of recommendation for me,' he implored.
I was taken aback. 'Don't tell me! You are a postgraduate and such a good writer!' I exclaimed. 'Degrees do not fill bellies unless they translate into jobs. I have been moving from pillar to post for a job for the past 10 years. Initially, I took up a part-time teaching job in a private school, but they paid very less. I left the job and am now doing freelance writing in a vernacular paper,' he said.
I failed to dissuade him. After a day, I landed in the Secretariat where the interview for the post had been going on for over a month. Although the basic qualification for the post was matriculation, but even MA, MPhil and PhD candidates had thrown their hat in the ring.
I met some interviewees who apprised me that apart from checking their educational certificates and enquiring about their family background, nothing much was being asked from them in the interview. 'How will the interview board decide and draw the merit list when matriculates and postgraduates are appearing for the same post,' I wondered.
I returned, having said nothing to any one as all candidates appeared to be sailing in the same wretched boat of unemployment. Making recommendation for one was to do injustice to the other. It is, indeed, appalling and unless serious efforts are taken by the government to create employment, the situation might turn explosive any day, soon.
Top News
One Indian arrested in Czech in June, second Indian a govern...
External Affairs Ministry spokesperson Arindam Bagchi says I...
Also clears Pradhan Mantri Janjati Adivasi Nyaya Maha Abhiya...
Naresh Kumar who is due to retire on November 30
Peace agreement with UNLF by Centre and Manipur government m...