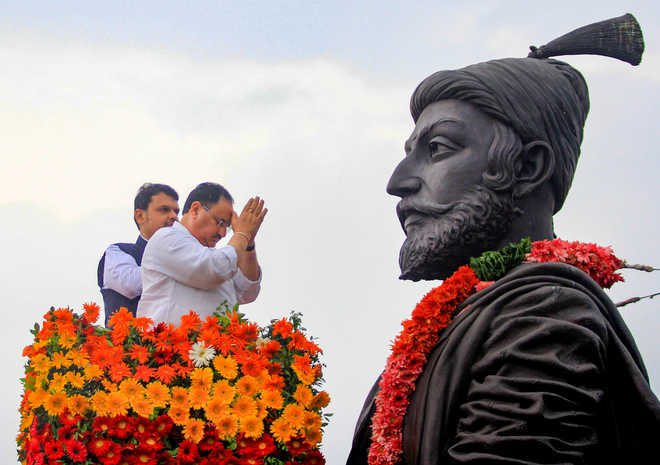 vermaajay1968@gmail.com
Shiv Kumar
Tribune News Service
Mumbai, July 21
BJP working president JP Nadda today asked his party workers to get ready to contest all 288 Assembly seats in Maharashtra, leaving ally Shiv Sena stunned. Addressing party office-bearers at a meeting of the state executive, he said the BJP and its allies could easily bag 220 seats in the coming polls, going by the trends in the Lok Sabha elections.
"Any decision on the alliance will be taken by party chief Amit Shah and CM Devendra Fadnavis, but our party workers should be prepared to contest all seats," Nadda said. Shiv Sena leaders were quick to point out that the BJP was preparing to ditch the party again, as it had done in 2014.
"We too are preparing to contest all seats," Shiv Sena leader and Environment Minister Ramdas Kadam said.
In a newspaper interview earlier today, Shiv Sena leader Aditya Thackeray said his party and the BJP had decided to share everything equally, including the post of CM. The Sena insists the next CM would be from its fold if the alliance wins the elections again, but BJP leaders here insist that no such deal has been agreed upon.
---
Will it be a Replay of 2014?
Ahead of 2014 Assembly polls, Shiv Sena- BJP alliance had snapped over seat-sharing

BJP claimed half of the 288 seats; Sena wanted 151, leaving 119 for BJP & 18 for others

Both parties then went alone with the Shiv Sena contesting 282 and the BJP 260 seats

The elections saw the BJP emerge as the bigger party with 122 seats while Shiv Sena won 63 seats

The two subsequently joined hands again in M'rashtra but it was always an uneasy alliance