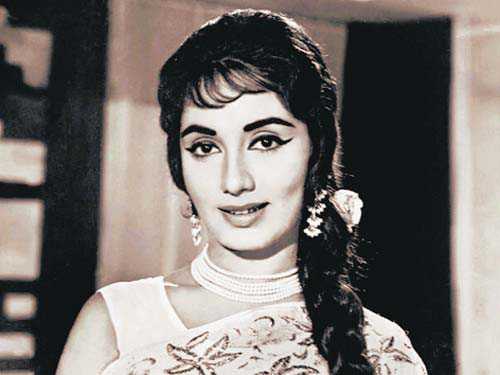 Devinder Bir Kaur
Sadhana gave us some unforgettable images: her dew-fresh beauty in Love in Simla; the romanticism of 'Abhi na jao chhod kar…' in Hum Dono; her haunting role in Who Kaun Thi; the saucy 'Jhumka gira re…' number in Mera Saaya are among the notable ones.
But she is most remembered for her fringe or the 'Sadhana cut', as it was popularly called. Without in any way detracting from her several memorable performances, it can be said that Sadhana is best known for the fashion trends she set in the 1960s.
Even today, decades after she popularised it, mothers take their little girls to the hairdresser for a 'Sadhana cut'. And what better proof of her sense of style than the fact that the churidar-kurti-mojris she wore in Waqt have never really gone out of fashion.
Interestingly, both the attributes have a story of their own. The fringe was not her idea but that of RK Nayyar, the director of her first Hindi film, Love in Simla (1960). He was an out-and-out fan of Audrey Hepburn, who was known for her fringe. He thought the fringe would help camouflage Sadhana's broad forehead.
And a star was born. Years later, he went on to marry the girl he had groomed on the sets.
HS Rawail, director of Mere Mehboob, put his foot down when Sadhana tried to do away with the fringe and have a middle parting and a long braid, as she was playing a Muslim girl's role. Rawail said he was making a love story, not a historical. The fringe stayed and Mere Mehboob went on to set the box office on fire.
This was followed by several other successful films such as Arzoo, Rajkumar, Mera Saaya, Ek Phool Do Mali and Aap Aaye Bahaar Aayi. Raj Khosla, who had directed her earlier in Ek Musafir Ek Haseena, also took her in his trilogy of sorts: Woh Kaun Thi, Mera Saaya and Anita. All three showed Sadhana as a mystery woman with an enigmatic smile.
Most of Sadhana's films had immensely admired music. 'Lag jaa gale...' from Woh Kaun Thi is still a rage among all age groups, Her duet 'Abhi na jao chhod kar…' from Hum Dono is regarded by today's superstar Shah Ruk Khan as the most romantic song. Sadhana herself, in an interview, counted 'O sajana barkha bahaar aayi…' (Parakh), 'Tera mera pyar amar…' (Asli Naqli), 'Naina barse…' (Mera Saaya) as being her favourite songs.
Sadhana had her share of success. Producers clamoured her for dates, heroes wanted her as the co-star as she was considered a lucky mascot. Her fans were legion.
But tragedy struck her when she was afflicted by a thyroid ailment. Her eyes were badly affected. After completing Geeta Mera Naam, she quit films. She never looked back. No bhabhi, sister or mother roles for her. She said she had had her share of stardom and wanted that image of Sadhana to endure. So much so, she never allowed anyone to click her pictures in her later years, which she spent in a leisurely manner.
Having worked since she was 15, she had no regrets about taking it easy, often in the company of actress friends Waheeda Rehman, Asha Parekh and Helen. She truly represented the beautiful era that was the '60s.
The writer retired as DNE, The Tribune
Top News