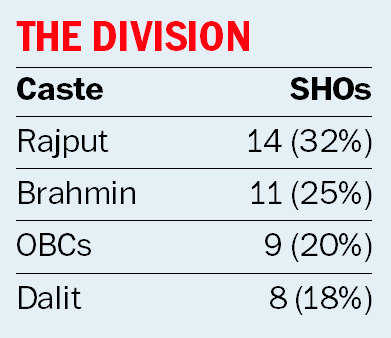 Shahira Naim
Tribune News Service
Lucknow, June 28
The BJP government, which promises 'Sabka saath, sabka vikas', has one-third Rajput station house officers (SHOs) in Lucknow, the caste to which Chief Minister Yogi Aditynath belongs.
This information has been provided by Lucknow SSP Kalanidhi Naithani in response to an RTI query of activist Nutan Thakur.
According to the information provided on June 25, of the total 43 police stations in Lucknow, 14 (32 per cent) have Kshatriya or Rajput SHOs. The second largest representation is of Brahmins, who man 11 or 25 per cent of the police stations in the state capital. As such, an overwhelming 58 per cent of the senior-most staff at the police stations of Lucknow belongs to the upper caste.
The OBC representation is 20 per cent. Of the nine OBC SHOs, none are from the Yadav community, who are believed to be politically aligned to the Samajwadi Party, BJP's rival in Uttar Pradesh politics. The OBC communities that have found a place in the city's police stations are Kurmi, Khatik and Murai, one OBC is also a Muslim.
Of the 43 Lucknow SHOs, eight or 18 per cent are from the Dalit community, while their share in the population is estimated to be between 22 and 25 per cent. Only two SHOs are Muslims — one from the general category and another from the OBC category.
Thakur said this was in violation of the government order regarding the caste composition in the appointment of SHOs. The order prescribes that 23 per cent SHOs should be from the OBC, 22 per cent from SC and ST, 5 per cent Muslims and the remaining 50 per cent from general categories.
Top News
Odisha government has issued helpline 06782-262286. The rail...
At least 50 people died and 350 were injured in a three-way ...
12837 Howrah-Puri Superfast Express, 12863 Howrah-Bengaluru ...
WFI chief demanded sexual favours in lieu of supplements and...
Said agitation will be intensified by holding panchayats acr...