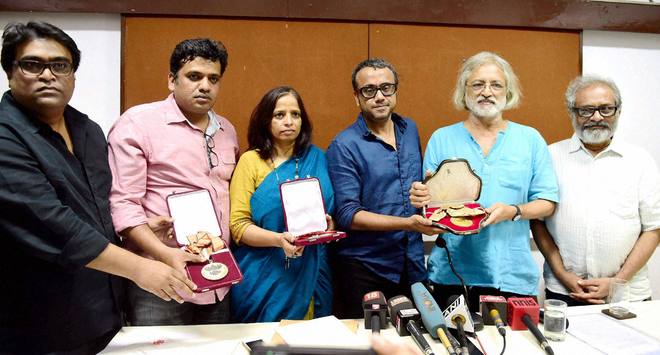 Mumbai, October 28
Eminent filmmakers Dibakar Banerjee, Anand Patwardhan and eight others today returned their National Awards in solidarity with the protesting FTII students and against growing intolerance in the country.
Banerjee and other filmmakers said their decision to return the awards was taken in view of the apathy displayed by the government in addressing the students' issues and the general environment of intolerance against debate.
Read: FTII students call off strike; protests to continue
"I am not here out of anger, outrage. Those emotions have long been exhausted. I am here to draw attention. Returning my very first National Award which I received for 'Khosla Ka Ghosla' is not easy. It was my first film and for many my most loved," Banerjee said during a press conference here. "If there is intolerance of debate, of questioning and usually intolerance of a student body wanting to have a better teaching environment and that intolerance manifests in apathy, then that is what we are protesting against," he said.
Noted documentary maker Patwardhan said the government had encouraged "extreme right wings". "I haven't seen so many incidents happen at the same time. This is a sign of what is beginning to happen and I think that is why people are responding all over the country in different ways," he said, referring to the instances of writers returning their Akademi awards. "We are focusing on the FTII. This is a struggle that we are supporting from the beginning," he said.
On the FTII students' decision to end their 139-day-old strike, Banerjee said the decision was pragmatic. — PTI