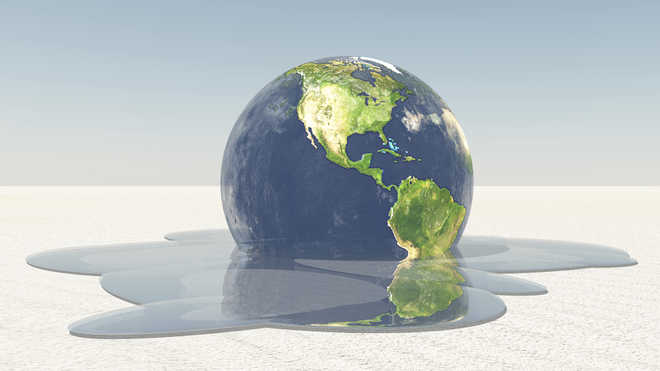 Vibha Sharma
Tribune News Service
New Delhi, October 8
As the world battles extreme weather conditions of previously unknown levels, scientists have issued a stern warning: act now or face consequences.
The Centre for Science and Environment (CSE) quoted IPCC climate change report released on Sunday to say that as the world witnessed rising sea levels, greater frequency of droughts and floods, and heat waves, countries like India with large populations dependent on the agricultural and fishery sectors would be most immediately affected,
Environmental scientists say they had underestimated the impact that the current 1.5 degrees Celsius rise in global temperature could make, but a rise of 2 degrees be "catastrophic": it would lead to increased precipitation, higher frequency of droughts and floods, hotter days and heat waves, more intense tropical cyclones, and increased ocean acidification and salinity.
It gets grimmer. The world could sustain the current temperature levels for only about 12 years more: even half a degree rise beyond this period would spell devastation—droughts, floods, extreme heat and famine.
Avoiding global climate chaos will require a major transformation of society and the world economy that is "unprecedented in scale," the UN said Monday in a landmark report that warns time is running out to avert disaster.
At current levels of greenhouse gas emissions, we could pass the 1.5 degrees Celsius marker as early as 2030, and no later than mid-century, the UN's Intergovernmental Panel for Climate Change (IPCC) reported with "high confidence".
The US is the "biggest" obstacle to forming a global coalition to fight climate change and the world needs to unite against the "obstructive approach" of the US, the CSE said while asserting that Paris Agreement and the United Nations Framework Convention on Climate Change (UNFCCC) cannot be the only way ahead to address the climate change.
"The world needs a 'Plan B' to address climate change. India must take the lead in forming a global coalition for a 1.5°C world to save its poor and vulnerable population," CSE said.
"Even at a little over 1.0°C warming, India is being battered by the worst climate extremes – it is clear that the situation at 1.5°C is going to worsen. The new report from IPCC has served us a final warning that we must get our act together—now and quickly," said Sunita Narain, Director General, CSE.
CSE Deputy Director General Chandra Bhushan said the report makes it clear that the impact of 1.5°C warming is greater than what was anticipated earlier.
The report points out that the risk transition from 1.5 degrees Celsius to 2 degrees Celsius is very high and that the effects at 2 degrees Celsius will be more devastating than what IPCC's Fifth Assessment Report had indicated.
Coastal nations and agricultural economies like India would be the worst affected, the report said, adding decline in crop yields, unprecedented climate extremes and increased susceptibility could push poverty by several million by 2050.
"The world cannot afford a warming of 2 degrees Celsius above the pre-industrial era. A 2 degrees Celsius warmer world will devastate economies and ecosystems and push hundreds of millions of people back into poverty."
"The goal of climate change now must be firmly fixed to 1.5°C to give the communities and nations a fighting chance to avoid the worst impacts of climate change. India must take the lead in creating a global coalition in this endeavour," Bhushan said.