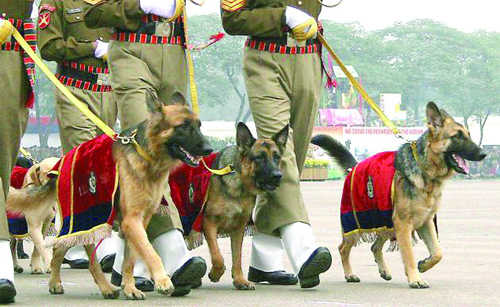 Vijay Mohan
Tribune News Service
Chandigarh, January 11
Amidst intelligence inputs indicating "concerted attempts" by international terror groups to target the political leadership of world's two largest democracies, the Indo-Tibetan Border Police Force (ITBP) has deployed 30 explosive detection dog teams along with strike commandos to provide anti-sabotage cover to US President Barrack Obama during his visit to New Delhi later this month.
"The threat is of placing sophisticated remotely operated improvised explosive devices at sensitive locations of the Republic Day celebrations and in hotels where the US President and his entourage would stay, by either radicalised 'lone-wolf' operatives under orders from across the border or sleeper cells, that have activated their wireless chatter which has been intercepted by our intelligence agencies and corroborated by the US intelligence," a statement issued by the ITBP has claimed.
ITBP dog teams, including "strategic-depth reserves" based at an undisclosed location, would sanitise the Rajpath, India Gate lawns and the entire route of Obama, right from the time he lands in Air Force One at the Delhi Airport and travels to his hotel and then to Rajpath in an armoured limousine. The entire area has been cordoned off by ITBP commandos. The nodal agency for raising and training dogs for security duties, ITBP is the largest single contributor of dogs for this highly sensitive security deployment in New Delhi, using more canines than the combined number deployed by the Army, BSF, SPG, NSG and CISF.
ITBP dogs and those provided to other forces are trained at its National Dog Training Center co-located with its Basic Training Center at Bhanu near Chandigarh. It has recently been upgraded with additional kennels and training infrastructure.
Top News
Action after security agencies flag data leak, extortion
Adani row: 3 posers daily, Cong steps up attack
Khalistan issue, extradition of fugitives taken up