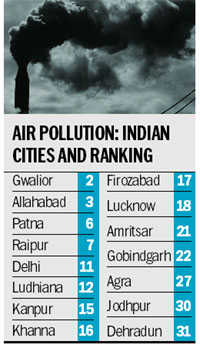 Aditi Tandon
Tribune News Service
New Delhi, May 12
India has fared poorly on WHO's urban air pollution assessment with 15 of the global top 30 most polluted cities being Indian.
Punjab, among all Indian states, is the top contributor to outdoor air pollution burden in the world with four cities — Ludhiana, Khanna, Amritsar and Gobindgarh — ending up on the list of 25 most polluted when it comes to fine particulate matter (PM 2.5) levels in the air.
India also continues to have the highest number of cities with the poorest air quality in the world. Out of the top 10 globally, four are Indian — Gwalior and Allahabad are ranked second and third, respectively, and Patna and Raipur are sixth and seventh.
(Follow The Tribune on Facebook; and Twitter @thetribunechd)
Iran's Zabol is the world's most polluted city replacing Delhi, which the WHO had in 2014 reported as the worst in the world.
On fine particulate matter (PM 2.5, which is more dangerous than small particulate matter measured as PM 10) Delhi is now ranked 11th.
The WHO report on trends in air quality shows that the levels of urban air pollution in the South-East Asia region comprising 11 countries, including India, have increased by over 5 per cent in more than two-thirds of the cities.
"Improving air quality must be a top health and development priority as increasing air pollution levels are putting the health of billions of people at risk. We have overwhelming evidence of the impact of air pollution on stroke, heart disease, lung cancer, and chronic and acute respiratory diseases. Globally, in 2012, air pollution in urban areas is estimated to have caused 37 lakh deaths with more than one-third reported from South-East Asia region," Poonam Khetarpal Singh, WHO Regional Director for the region, said.
The WHO's database shows that 98 per cent of cities in low and middle income countries with more than one lakh inhabitants don't follow WHO air quality guidelines.
Top News
Shah appeals for surrender of arms, says dialogue only way f...
PM flags off cargo train from Bihar to Nepal
Mahapanchayat in Kurukshetra today to chalk out future cours...
2nd science topic to be removed by NCERT after Darwin's theo...