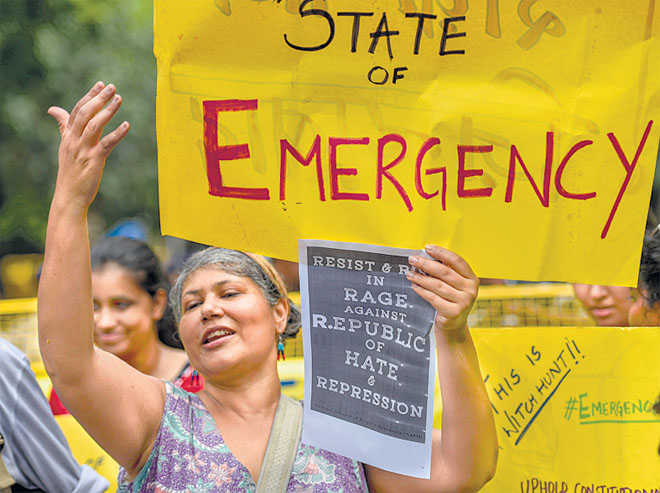 New Delhi/Pune, August 29
Describing dissent as the "safety valve of democracy", the Supreme Court on Wednesday directed that the five human rights activists arrested by the Maharashtra Police over suspected Maoist links be kept under house arrest until the next date of hearing on September 6.
Edit: The Clampdown
The interim relief, which spares the five Left-wing activists the prospect of being sent to jail or police custody for now, came on a day of multiple court battles following their Tuesday arrests.
In a pan-India crackdown, poet Varavara Rao was arrested in Hyderabad, activists Vernon Gonsalves and Arun Ferreira in Mumbai, trade unionist and lawyer Sudha Bhardwaj in Faridabad and Chhattisgarh and civil liberties activist Gautam Navlakha in Delhi.
The raids were part of a probe into a conclave — Elgar Parishad — held in Koregaon-Bhima near Pune on December 31 last year, which had allegedly triggered violence the next day.
Giving relief to the activists, a Bench headed by Chief Justice Dipak Misra and comprising Justices AM Khanwilkar and DY Chandrachud observed: "Dissent is the safety valve of democracy and if you don't allow these safety valves it will burst." The apex court questioned the police for arresting the activists nine months after the violence between Dalits and upper caste Peshwas at Koregaon-Bhima village.
The apex court also issued notice to the Maharashtra Government and the state police asking for a "factual report" within four weeks on a plea by five leading intellectuals, including historian Romila Thapar and economists Prabhat Patnaik and Devaki Jain. They claimed the arrests were aimed at "silencing dissent" and "instilling fear" in the minds of people. "The Supreme Court has passed an order that covers all who were arrested," said lawyer Vrinda Grover after the ruling, adding they would be taken back to their homes.
Shortly after the apex court order, a Pune court directed the police to send the arrested activists back to their homes. Rao, Ferreira and Gonsalves were taken to Pune late on Tuesday, while Bharadwaj is confined to her home in Faridabad and Navlakha to his Delhi residence.
They were arrested under various Sections of the IPC, including 153 (A) for promoting enmity on grounds of religion, race, place or birth, residence, language and committing acts prejudicial to maintenance of harmony, besides the Unlawful Activities (Prevention) Act.
Hearing Navlakha's plea, the Delhi High Court on Wednesday observed that even if all other arrests were found to be valid, it would not lend validity to his arrest. — Agencies
Top News
Shashi Tharoor will file his papers today and May later with...
With the latest hike, the repo rate or the short-term lendin...
There is a heated argument between MLA Sukhpal Khaira and Sp...
Justice Jaswant Singh of the Orissa High Court has been reco...
Kejriwal, however, does not specify which agency is working ...