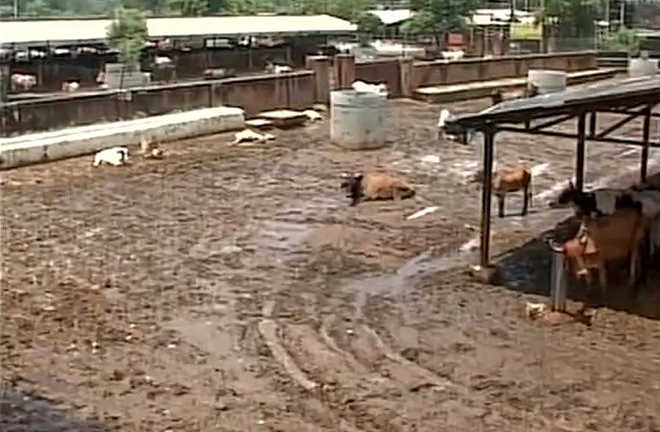 Our Correspondent
Jaipur, August 6
The Rajasthan government on Saturday said 8,122 cows have died at Asia's "best" Hingonia Gaushala between January 1 and July 31 this year due to ill-health and accidental injuries.
On an average, 1,053 cows die every month at this very centre, while over 500 have perished in last 10 days.
The death rate has increased from 7.09 per cent in 2012 to 11.31 per cent in July 2016, according to statistics released by the state government.
For fodder and medical care at the centre, the annual budget of Hingonia Gaushala was raised from Rs 5.19 crore in 2007-08 to Rs 10.78 crore in 2015-16.
Rajasthan Chief Minister Vasundhara Raje asked the officials and employees of veterinary department, Jaipur Municipal Corporation and Hingonia rehabilitation to take measures to improve the situation at the cow shelter within four days.
Before boarding a flight to Delhi, Raje held a high-level meeting with ministers concerned Prabhu Lal Saini, Rajpal Singh Shekhawat and JMC mayor Nirmal Nahata directing them to take up the task of improving the situation on war footing.
Deputy Commissioner Sher Singh Luhariya and in-charge of Hingonia Gaushala R K Sharma were suspended for the negligence leading to death of cows in the past 10 days, an official said, quoting the CM.
Raje said she will visit Hingonia Gaushala on her return from Delhi after four days. Meanwhile, ministers Saini and Shekhawat visited the gaushala with top bureaucrats to supervise the measures being taken in the wake of death of cows.
Meanwhile, scores of cow vigilantes led by Haryana-based Rashtriya Gau Sant Gopal Das Maharaj were rounded up near secretariat in the evening while they were protesting against the death of cows at Hingonia Gaushala.
The protesters tried to enter the secretariat by violating Section 144 of CrPC that has been promulgated around the secretariat and civil lines.
Sources in the BJP accused police of resorting to lathicharge on the agitators. They police refuted the allegation.
Gopal Das along with others also took out a candle march at statue circle in Jaipur.
Top News
Had complained to PM Modi about the activities of Brij Bhush...
Section 124A of the Indian Penal Code dealing with sedition ...
The postings and transfers of the officers have been made on...
'We are distressed and disturbed at the unseemly visuals of ...
The representatives of various khaps and farmers' outfits re...