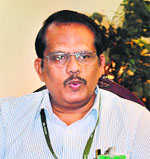 Ajay Banerjee
Tribune News Service
New Delhi, July 9
Nuclear-powered submarine, INS Arihant, will undergo its first-ever underwater missile firing test and also conduct deep diving tests this year. The missile, code named 'B-05', is of medium-range variety capable of carrying a nuclear-tipped warhead, making it New Delhi's first Submarine Launched Ballistic Missile (SLBM).
INS Arihant is classified as a ship submersible ballistic, nuclear (SSBN) submarine. In comparison, China has five such operational SSBNs and the range of Beijing's missile is much more than 'B-05'.
Director-General of Defence Research and Development Organisation (DRDO) and Secretary (Research and Development), Dr S Chirstopher, told The Tribune today: "INS Arihant will go for deep sea diving this year and along with a series of tests, we would like to test B-05".
On being asked if it will be a strategic weapon carrying nuke tipped warhead, the scientist said: "Yes, it is capable". But he did not mention that 'B-05' can carry one-tonne warhead and will be launched by the submarine while being underwater, hence classified as (SLBM).
On future plans, he said the DRDO has proposed a new missile 'AGNI-VI' with a range of 10,000 km, albeit with a smaller warhead than 'AGNI-V'. "It's at the thinking stage. We still do not have the sanction to make it but have the capability. We have to now present our case to the government explaining the need for such a missile," he said.
China's inter-continental ballistic missiles (ICBMs) like the Dongfeng-21 have a range of about 11,000 km. A missile that can travel more than 5,500 km is classified as an ICBM. Dr Christopher, on being asked if the forthcoming test of the AGNI-V is the final one, said: "It will depend on the outcome. We normally look at three consecutive tests".
On the progress of the advanced air defence (AAD) interceptor missile and the ballistic missile defence (BMD) shield, Dr Christopher said: "We are nearing the completion stage. We are looking at a small variation and working on that. Once AAD is perfected, it will complete the BMD".
An AAD interceptor missile is integral to the BMD capable of tracking and destroying hostile missiles in both endo-atmospheric (below an altitude of 30 km) and exo-atmospheric (above an altitude of 80 km) region.
Top News
Railway Board has recommended for Central Bureau of Investig...
Amid 'pro-Khalistan sloganeering, the 39th anniversary of Op...
Focus on ways to expand bilateral defence and strategic ties
The incident took place when Binny had to load his SUV for t...