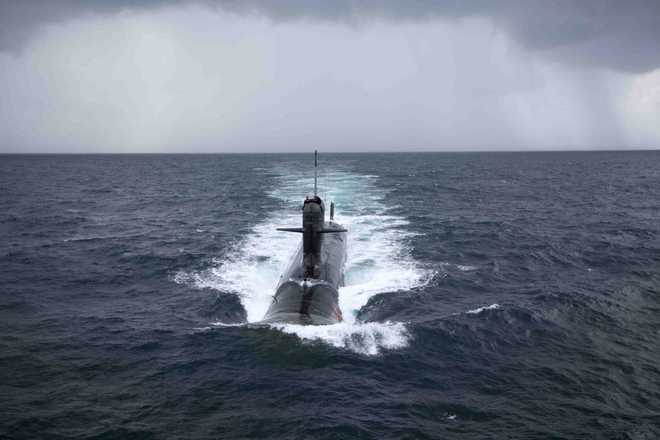 New Delhi, October 28
Chief of Naval Staff Admiral Sunil Lanba on Friday emphasized the need for the Indian Navy to remain outcome oriented in all endeavours, both at sea and ashore.
Chairing the four-day Naval Commanders' Conference here, Admiral Lanba stressed focus on four key areas: 'Combat Capability and Role- Worthiness', 'Ensuring Primacy of Core Professional Tasks',
'Develop a Motivated, Trained and Committed Team' and 'Increase Familiarity and Comfort in IN's Maritime Areas of Interest'.
Sharing his views on the current security scenario and emphasized the need for the Indian Navy to remain outcome oriented in all endeavours, both at sea and ashore.
During the conference, which concluded here on Friday, the senior leadership of Navy reviewed major operations, training and administrative activities undertaken in the last six months.
On Thursday, Defence Minister Nirmala Sitharaman addressed and interacted with the Naval Commanders, which was also attended by senior MoD officials.
She reviewed the combat readiness of the Navy, pace of modernisation and progress of various acquisition and infrastructure related cases.
She complimented the Indian Navy for maintaining a high operational tempo, ensuring the maritime security of the country and sustained efforts in support of the 'Make in India' and 'Digital India' initiatives of the Government.
Sitharaman brought out that it was a matter of pride that all 34 warships presently under construction were being built indigenously. She also complimented the Navy on the successful conduct of tri-lateral exercise 'MALABAR 17' and informed the Commanders that during the recently concluded ADMM Plus, keen interest was evinced by various ASEAN nations in exercising with the Indian Navy, which spoke highly of the IN's professional standing and competence.
The Commanders also had an opportunity to interact with the Chiefs of the Indian Army and Indian Air Force (IAF).
Amitabh Kant, CEO, Niti Aayog also interacted with the Commanders and gave his perspective on 'Make in India' with specific reference to building a vibrant defence industrial base, which would be pivotal in spurring the manufacturing sector growth and make India an export oriented economy.
As part of the annual theme, the Commanders brainstormed to fine tune the execution of 'mission based deployment' involving ships, aircraft and submarines beyond the immediate neighbourhood for providing sustained presence in the Indian Ocean Region.
The Commanders resolved to focus efforts on the Navy's ability to deploy and sustain in tandem with the new Mission-based deployment concept, which would result in greater presence and visibility in Indian Ocean Region. — ANI
Top News
Khalistan sympathiser appeals to Akal Takht chief to call 'S...
BJP leaders attack the Congress, accusing the party of invit...
Ten women and a man died in the accident, state home ministe...
Several vehicles torched, shops ransacked on Thursday evenin...
India reports 40 per cent jump in new Covid cases