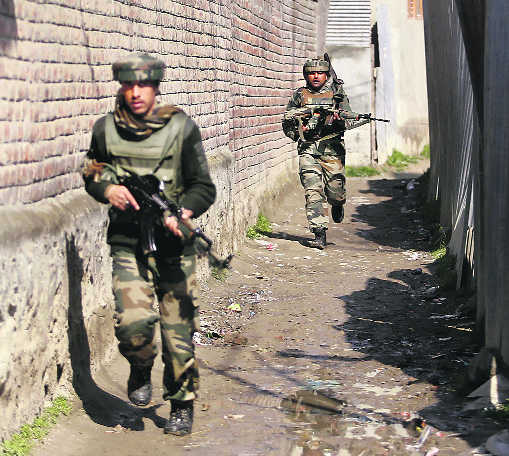 Tribune News Service & PTI
New Delhi/Jammu, May 28
A day after the Tripura Government decided to lift the Armed Forces Special Powers Act from the state after 18 years, the Centre today made it clear that there would be "no Army deployment without AFSPA" in Jammu and Kashmir.
Defence Minister Manohar Parrikar, in an interview to PTI a few days back, said the Act "is mandatory for the Army to operate in Jammu and Kashmir". Parrikar, while speaking at a function in Pune today, said: "We have given clear directions on protecting human rights and minimising collateral damage."
"But if an attempt is made to shoot at our soldiers, we will try to kill the attacker without losing our men," he said apparently referring to the situation in J-K.
The Defence Minister said if a state did not need the Army, the law and order situation should be handled by the police. "If you don't need the Army, the police should handle the law and order situation. My jawans will not get killed, they will kill," the minister asserted.
Parrikar also said in the past five-six months, the "situation in the Northern Command" was improving and action was being taken on the basis of Army intelligence.
Parrikar, earlier replying to a question about his ministry's stand on J-K Government's demand to scrap the controversial law in the state, said: "Mine is not the ministry to decide about it (AFSPA). It is very simple that if the Act exists in that particular area, the Army can operate in that area. If it is not there, the Army can't operate there."
Parrikar's remarks on J&K assume significance following his recent visit to that state where he interacted with the Army top brass as well as the political leadership. During his meeting with Chief Minister Mufti Mohammad Sayeed and others from the ruling PDP, an alliance partner of the BJP, there were demands for revoking the draconian law.
The Army continues to be against any move to dilute the AFSPA in J-K. The Army feels if AFSPA, which it terms as an "enabling Act," is partially withdrawn or diluted, there are chances that radicalisation and even violence would increase. The Army deployed in counter-insurgency operations in J-K has described AFSPA an indispensable tool to combat Pakistan-sponsored terrorism. "There is a spurt in militancy again and March 20-21 terror attacks in Kathua and Samba are still fresh in the minds of the people. Where is the peace? If Army has to combat terrorism then the Act has to stay," said a senior officer of a counter-insurgency force.