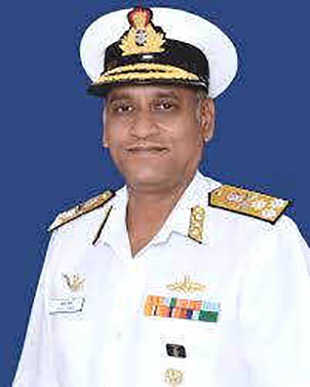 Vijay Mohan
Tribune News Service
Chandigarh, September 16
Dismissing the claim of Vice Admiral Bimal Verma for appointment to the post of Chief of the Navy, the Armed Forces Tribunal has upheld the elevation of the next senior most naval officer.
In its order today, the Tribunal's Bench comprising Justice Virender Singh and Lt Gen Philip Campose ruled that seniority in the panel of Vice Chief of Naval Staff and Commanders-in-Chief is the primary consideration, but cannot be the sole criterion for selection of important appointments like the Chief of Naval Staff (CNS). The post of CNS is not a promotion post, but an appointment by the President.
Observing that negative records, which come to the notice of the government can be taken note of by them, while considering those in the zone of consideration for the post, the Tribunal held that the respondents were justified in their action in superseding the applicant when they, as per their discretion, which is clearly recorded on the file, found that the applicant, though the senior most, was not fit for selection as CNS and thereby appointed the next senior most officer found fit for selection.
Vice Admiral Verma, then Flag Officer Commanding-in-Chief (C-in-C, Andaman and Nicobar Command, had challenged the appointment of Admiral Karambir Singh, then C-in-C, Eastern Naval Command, as the Navy Chief, alleging mala fide and bias. The latter took over as the Navy Chief on May 30.
The Tribunal observed the applicant had been awarded severe displeasure on two occasions, the first in 2005 for acts of omission and commission with regard to his role as the Principal Director, Naval Operations, during the Navy War Room leaks, which was serious enough to have resulted in the dismissal from service of three of his subordinates, and the other in 2007 for an act of negligence in having authorised a flight of an unserviceable Chetak helicopter while commanding INS Mysore.