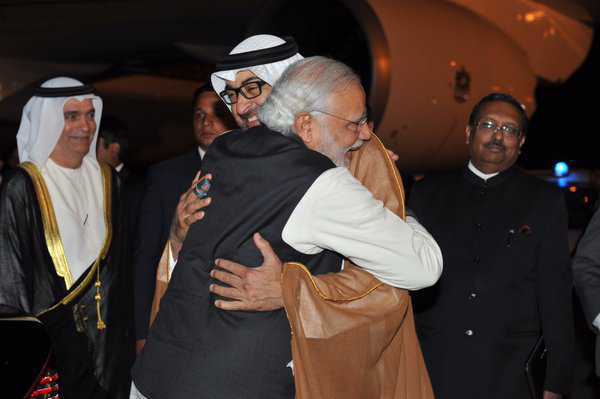 Smita Sharma
Tribune News Service
New Delhi, December 5
Diplomatic sources have confirmed to The Tribune that Prime Minister Narendra Modi will visit Abu Dhabi on a two-day tour in February (11 and 12) for a summit event.
His maiden visit to Abu Dhabi in August 2015 was the first visit of an Indian Prime Minister in more than three decades.
Ahead of Modi's visit, the United Arab Emirates (UAE) have announced plans to expand its consular footprint in India.
The UAE Embassy has also launched a user-friendly mobile app to facilitate travel and people-to-people ties between the two strategic partners.
Announcing the launch, UAE envoy to India Dr Ahmed Albanna informed that it provides services such as 'Twajudi' (aimed at helping nationals return in case of emergency), loss of passport, newborn return documents as well as answer queries on hassle-free travel.
"Under the present circumstances, if people from Chandigarh, Chennai and Hyderabad want a visa to the UAE, they have to travel to either Delhi, Mumbai or Kerala. So to prevent hardship for the people, we are soon going to open our consular and visa centres in these cities," said the envoy.
The envoy also announced that the country's sovereign wealth fund of 75 billion dollars will be invested in key areas such as infrastructure and hospitality in India over the next decade, with a billion dollars invested in the past two months.
Asked about the release of proscribed terrorist Hafiz Saeed in Pakistan, the envoy said his country stands shoulder to shoulder with India on counter-terrorism.
"We denounce terrorism and extremism and we work very closely with India and many different countries in the world, to counterattack all those organisations that have been listed either by the UN or by some other countries or by own countries as terrorist organisations," Albanna said.
Amid the ongoing summit meeting of the Gulf Cooperation Council (GCC) in Kuwait, with camps divided between Saudi-UAE on one side and Qatar on the other, terrorism is a key tool being used to corner the latter.
"We hope Qatar will realise its mistake and come on the right track," said Dr Albanna.
In signs of a fractured GCC, Saudi and UAE have now entered into a military alliance outside of the grouping's ambit with increased worries for the region that sends in foreign remittances through some seven million Indian workers and professionals employed there.