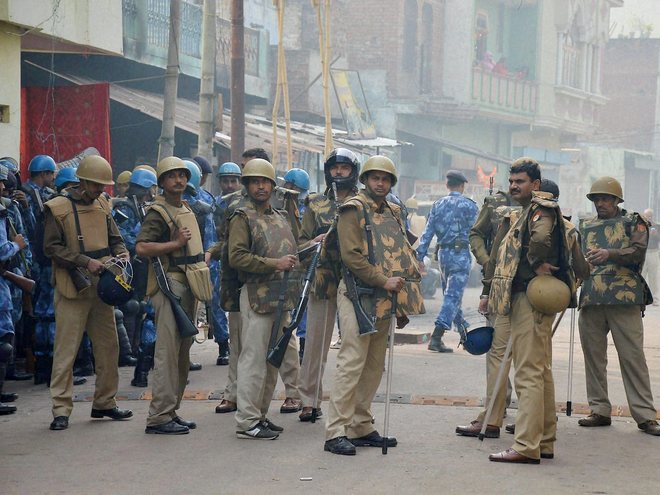 Tribune News Service
Lucknow, November 14
An undeclared curfew-like situation prevails in Aligarh after the death of a 22-year-old youth in communal violence which started late on Friday.
Additional police force, including the RAF, PAC, Civil Police and Quick Response Team has reached the old city's Delhi gate area.
Tension follows clashes over burning of fire-crackers on Diwali. Things worsened as a reported incident of eve-teasing on 'Bhai Dooj' in Sarai Miyan and Kailash Gali took a communal overtone leaving a youth injured. He later succumbed to his injuries.
Tension further mounted as the family refused to accept the Rs 10 lakh compensation announced by Chief Minister Akhilesh Yadav. Gaurav's family is demanding compensation on a par with Akhlaq, who was lynched in Dadri over the reported beef consumption incident. Yadav had given his family Rs 45 lakh and promised a government job to a family member.
Gaurav's mother refused to accept the Rs 10 lakh cheque from district magistrate Balkar Singh and was on a dharna. Local BJP MP Rajvir Singh and Mayor Shakuntala Bharti supported the family's demand.
Following heavy brick-batting and arson in the old city, six persons were injured and several vehicles gutted.
Heavy police deployment is in place and patrolling the old city to check the rising tension. DIG Govind Agarwal, SSP J Ravinder Goud and DM Balkar Singh are camping in the old city and were present at Delhi Gate till late night.
BJP spokesperson Manoj Mishra in a statement charged the SP government with appeasing Muslims. He said the BJP would launch a protest to demand Rs 45 lakh for deceased Gaurav's family just like Akhlaq's family received after his death in Dadri.
Top News
Eye on China, reiterate commitment to ensure free, open Indo...
Rubbish reports of their withdrawal from protest
Puri Vande Bharat 1st passenger train to run on restored tra...
PGI 2nd best medical institute after AIIMS-Delhi; PU slips t...
Says world paying price for wrong policies of some developed...