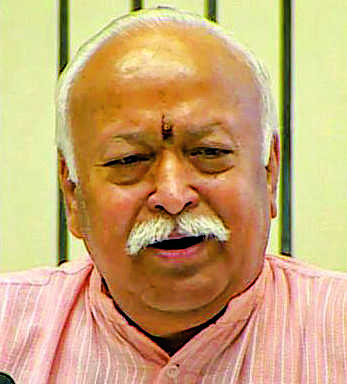 Vibha Sharma
Tribune News Service
New Delhi, October 7
Ever since the BJP rose to power at the Centre, curiosity and interest about the functioning and views of its ideological fountainhead has increased tremendously and all eyes are now on Rashtriya Swayamsevak Sangh sarsanghchalak Mohan Bhagwat's Vijayadashmi address in Nagpur on Tuesday. While essence of his speeches, as swayamsevaks insist, is "essentially social", its underlying political nuances are hard to miss.
Over the past years, Bhagwat has been making concerted efforts to 'dispel misconceptions' and clear the air about the image of what is otherwise perceived as a hardcore right-wing orgnisatation. It remains to be seen what new insights the Sangh supremo offers in the presence of Shiv Nadar, founder and chairman of HCL and Shiv Nadar Foundation, the chief guest for the day.
The guests at the RSS events are also becoming the cause of much debate. Former President Pranab Mukherjee created a sensation when he accepted the Sangh's invitation last year. His calling the RSS founder Keshav Baliram Hedgewar "a great son of Mother India" also received much criticism from within the Congress. The RSS' image as a closed organisation has made its functionaries to launch concerted efforts to dispel through dialogue and by inviting guests.
Mahayagya to promote Vedas
VHP is organising a week-long 'Chaturveda Swahakar Mahayagya' to promote ancient 'vedic' knowledge contained in the four Vedas beginning October 9. RSS chief Mohan Bhagwat will be one of the 'yajmaans' (ritual patrons) for the ceremonies
Top News
'Invested in property' linked to drug accused NRI kabaddi pl...
'No faith': Girl refuses to file complaint