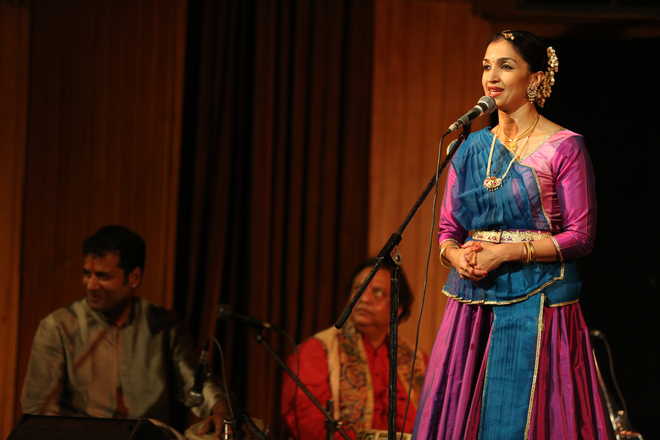 Simran Sodhi
The sounds of ghunghroo moving in sync with the tabla made boundaries irrelevant as Bageshree Vaze, an Indo-Canadian artiste, presented "Tarana", a concert in memory of the late Pandita Veena Sahasrabuddhe. The presentation, which was made in collaboration with the Canadian High Commission, saw the presence of sarod maestro Amjad Ali Khan with his wife and sons Aman and Ayan.
Pandit Birju Maharaj made a brief appearance towards the end of the concert to meet and bless the artistes. Pandit Deepak Maharaj also performed and the evening brought alive the rich cultural traditions of India.
Vaze was formally trained in Bharatnatyam and later received her training in Kathak from the living legend Pandit Birju Maharaj and his son Jai Kishan Maharaj. Vaze, who has performed all over the world to glittering reviews by The New York Times, among others, said that for her as an individual, dance is about a deeper connection. She pointed out that non-resident Indians actually place greater emphasis on their children learning the classical Indian dances because for them that provides a connection back home.
Vaze is quick to point out that while Bollywood is a recognised term, it is the complexity and the intricacies of the Indian classical dances that the global audiences associate India with. "Europe, Canada and the United States all have their classical dances too, like the opera," she explained. For many children like her who grow outside India, the first introduction to classical dances came from learning the tradition in the temples there.
For the Canadian High Commission, the presentation underlined the deep connect the two countries share. Canada today boasts of a rich and vibrant Indian diaspora and the connections span the cultural, political and economic arenas. Vaze's performance was another important reminder of how India's oldest art form still reverberates in the modern times, across nations and continents.
Japan backs Swachh Bharat
In a unique gesture, the Japanese embassy lent support to Prime Minister Narendra Modi's Swachh Bharat scheme last week. The embassy along with Kodansha, a Japanese publishing house, co-organised a book-reading event of 'Mottainai Grandma' series.
Written by Japanese writer Mariko Shinju, in India the books will be published by the National Book Trust. Interestingly, the expression closet to Mottainai in English is "What a waste", or "Do not waste", or a situation where a thing is being wasted or being used without proper care and consideration. So that makes for some Japanese-inspired Swachh Bharat initiative.
Top News
Says one of the Bills seeks to give representation in Assemb...
Among the 10 who put in their papers are nine Lok Sabha MPs,...
Resignation of Union ministers also revived speculation of r...
The withdrawal of statement by MP Senthil came when the Hous...
The Punjab DGP office had written a letter to Rajashthan Pol...