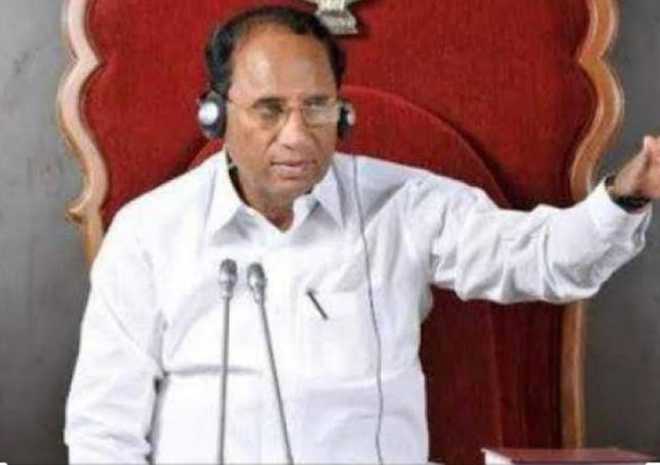 Naveen S Garewal
Tribune News Service
Hyderabad, September 16
Former Andhra Pradesh Assembly speaker Kodela Shivaprasad Rao and Telugu Desam Party (TDP) allegedly killed himself on Monday morning.
Rao, who hanged himself from a ceiling fan at his Hyderabad residence, was taken to a hospital in serious condition on Monday morning but died later. Relatives claim it was the allegations of corruption by the ruling YSR Congress that pushed him to suicide. Several cases of corruption were registered against Rao since the YSR Congress under Chief Minister Jagan Mohan Reddy swept into power in assembly elections held in May this year.
Rao had denied any wrongdoing, instead accusing the ruling party of "political vendetta".
The state government has even accused Rao of stealing furniture from Andhra Pradesh Assembly, claiming that they found some pieces at a showroom his son owns.
Rao's family isn't alone blaming the ruling party: TDP chief N Chandrababu Naidu, former chief minister of the state who lost his seat to Jagan Mohan Reddy this Many, also accused the state government of hounding him with corruption allegations.
Meanwhile, Telangana Chief Minister K Chandrashekar Rao voiced his shock at Rao's death.
Born in 1947 in Guntur, he did his MBBS from Guntur Medical College, Kurnool, and MS (General Surgery) at Banaras Hindu University.
The six-time MLA served as a minister for both NT Rama Rao and Chandrababu Naidu. He was Speaker in 2014 when Telangana split from the united Andhra Pradesh in 2014. He remained in the position until May elections when his party ceded power. He has also been minister of home affairs, health, irrigation, Panchayati Raj and rural development, and civil supplies during his three-decade-long political career.
Opposition BJP has expressed shock the development. In a statement, Telangana BJP spokesperson Krishna Saagar
Rao said in a statement: "Shocked to know that former minister, former AP speaker Shri. Kodela Siva Prasad has committed suicide. I extend heartfelt condolences on the unfortunate demise of this senior politician. May his soul rest in peace". He added: "I believe this forced death is a testimony to the ongoing bitter ad contemptuous politics of Andhra Pradesh. It's quite unfortunate".