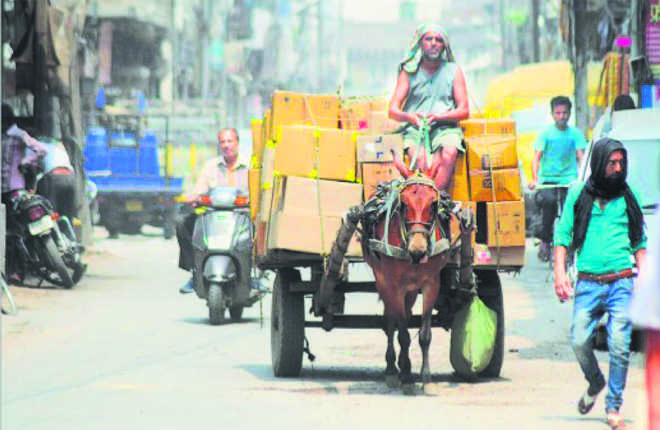 Saurabh Malik
Tribune News Service
Chandigarh, June 1
In an exceptional judgment, the Punjab and Haryana High Court has ruled that animals and birds have legal rights like humans and declared citizens the "guardians of animal kingdom" with duty to ensure their welfare and protection.
The Bench has also fixed load to be carried by animals and banned their deployment for pulling vehicles in extreme cold and heat conditions. The use of spike sticks, harness or yoke with spikes, knobs, projections and other sharp instruments were also banned in Haryana, to begin with, for avoiding bruises, swelling, abrasions and severe pain to them.
To avoid inconvenience to animals, Justice Rajiv Sharma also directed the police to ensure that carts driven by animals were given the "right of way". Their use was also limited to nine hours a day in the aggregate, and not more than five hours without a break.
"Live and let live," Justice Rajiv Sharma asserted in his 104-page order after issuing 29 mandatory directions for the welfare of "animal kingdom". The directions, after according the status of legal person or "entity" to animals, came in a case where 29 cows were packed in cruel and brutal manner in two trucks for being exported to Uttar Pradesh from Haryana.
Justice Sharma ruled that animals, including avian and aquatics, had a right to life and bodily integrity, honour and dignity, and could not be treated merely as property. "The entire animal kingdom, including avian and aquatic, are declared legal entities having a distinct persona with corresponding rights, duties and liabilities of a living person. All citizens throughout Haryana are hereby declared persons in loco parentis (responsible for a child in parents' absence) as the human face for the welfare/protection of animals," Justice Sharma ruled.
Quoting books, authors and rules, Justice Sharma directed the state government to ensure no person was permitted to keep in harness any animal to draw vehicles between 11 am and 4 pm in summers when temperature exceeded 37 degrees Celsius, and between 10 pm and 7 am when the temperature fell below 5 degrees Celsius in winter. Stressing the need to show compassion towards all living creatures, Justice Sharma asserted animals might be mute but "we as a society have to speak on their behalf".
"Cruelty caused psychological pain to them and agony should not be caused to the animals. They breathe like us and have emotions. They require food, water, shelter, normal behaviour, medical care and self determination," he said. About safety, Justice Sharma underscored the need for fluorescent reflectors on carriages and animals, compulsory shelter of suitable size for horses, bullocks and stray cattle and directions to veterinary doctors to treat any stray animal brought to them or by visiting them.
The commandments
Animal-drawn vehicles not to carry more than four persons, excluding driver and children below six
Animals to be transported on foot only when temperature is between 12-30°C; should be provided water every two hours and food every four hours; are not forced to walk for more than two hours at a stretch
While being transported they should only be tied by neck and the rope must be covered with suitable cushioning
Top News
The poll panel will announce the election schedule at 11.30 ...
Police say Amritpal was on his way from Delhi with three oth...
The occupants of the vehicle abandoned the car near Gurdwara...
US State Department Deputy Spokesperson Vedant Patel condemn...
Deputy Assistant Secretary of State for Visa Services Julie ...