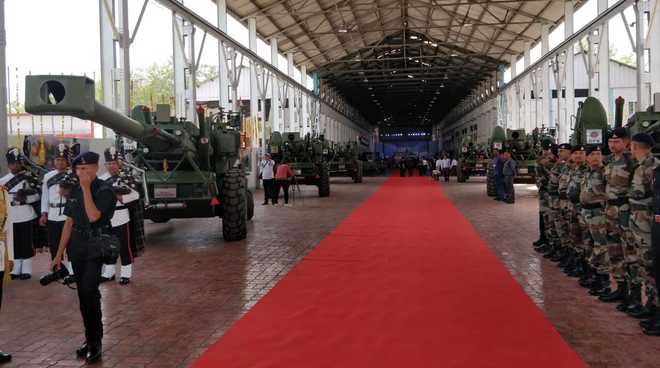 Ajay Banerjee
Tribune News Service
New Delhi, April 8
The Army on Monday inducted the first batch of six Dhanush artillery guns. This comes close on the heels of induction of two separate types of foreign-origin artillery guns in the past six months.
The Dhanush, a modified version of the Bofors gun, was purchased in the 1980s. It had completed user trials in June 7 last year. The bulk production clearance (BPC) was okayed in February this year. Dhanush has a maximum effective range of 38 km. An on-board computer and electronic suite enable real-time targeting of moving and static targets.
Made at Ordnance Factory Board, the first six Dhanush guns were handed over to the Army at the Gun Carriage Factory (GCF) Jabalpur, Madhya Pradesh. The OFB will make 114 first indigenous 155mmX45 calibre guns. This is the first long-range artillery gun to be produced in India.
The gun is the outcome of design documents running into over 12,000 pages, which were given to India as part of the first phase of Transfer of Technology (ToT) under the Bofors gun deal inked in the late 1980s.
The Swedish Bofors company could not complete the ToT for the 155mm x 39mm calibre howitzer as the deal got embroiled in a major political row over alleged kickbacks. The OFB manufactured and supplied several components and spares to keep the Bofors howitzers operational in India, but could not make the gun.
Seven years ago, the Defence Acquisition Council had decided to look for artillery guns within the country and asked OFB to start manufacturing howitzers. In 2012, the manufacturing facility was inaugurated at the GCF.
Apart from the Dhanush, the other indigenous effort is Advance Towed Artillery Gun System (ATAGS) designed by the Defence Research and Development Organisation and manufactured by Tata and Bharat Forge. The MoD had sanctioned the ATAGS project in September 2012. A prototype was part of the Republic Day Parade in 2017.
In November last year, two types of foreign-origin guns were inducted at a ceremony at Deolali, Maharashtra. These are the M777 ultra-light howitzer (145 guns) produced by the BAE systems in the US and the self-propelled tracked gun K9 Vajra-T made under a joint venture between Larsen and Tourbo and South Korea's Hanwha Techwin.
Under the Army's Field Artillery Rationalisation Plan (FARP) formulated in 1999, the artillery plans to acquire a total of 2,820 guns of all types to replace obsolescent guns and to equip the new regiments that will form part of 17 Corps, the Mountain Strike Corps now under raising.