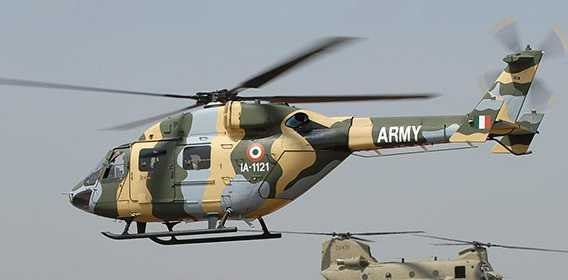 Vijay Mohan
Tribune News Service
Chandigarh, July 31
The Army is considering setting up a maintenance and overhaul base for helicopters operated by the Army Aviation Corps (AAC) in this region and has sought allocation of land for the purpose from the Haryana government.
"The Army has projected a requirement for 40 acres and is keen on acquiring land in Pinjore where Haryana has a flying club and the location is also adjacent to the Western Command headquarters," a state government officer said.
"But as land is not available in Pinjore due to other developmental projects, we have suggested Hisar, where an integrated aviation hub is envisioned, as an alternative," he said. The Aviation Corps' mandate is battlefield support, reconnaissance and surveillance, search and rescue, communication and liaison and logistic support in varied terrain ranging from high altitude to the deserts. The bulk of its fleet is based in Jammu and Kashmir, Punjab and Rajasthan.
Unlike the Air Force that operates a large number of Soviet-origin helicopters, AAC fleet comprises Dhruv, Rudra, Chetak and Cheetah helicopters that are manufactured by Hindustan Aeronautics Limited (HAL). These have to be sent to Bangalore for major repairs and overhaul. "Though the number of Cheetah and Chetak helicopters is declining, the strength of Dhruvs and Rudras (armed version of Dhruv) is increasing. The AAC is also going in for the Light Combat Helicopter (LCH) made by HAL, besides procuring a large number of light utility and attack helicopters. Since most of them would be deployed in the western theatre, it would be operationally and logistically advantageous to have a maintenance and overhaul hub in this region," an officer said.
State government officers said process was on to upgrade the present airstrip at Hisar, about 150 km from Delhi and 340 km from Chandigarh, into an international airport. "One of the components of the upgraded airport complex is maintenance, repair and overhaul hub for aircraft. We are also exploring the feasibility of setting up a manufacturing complex for defence and aviation components at Hisar as part of the offset policy," an officer said.