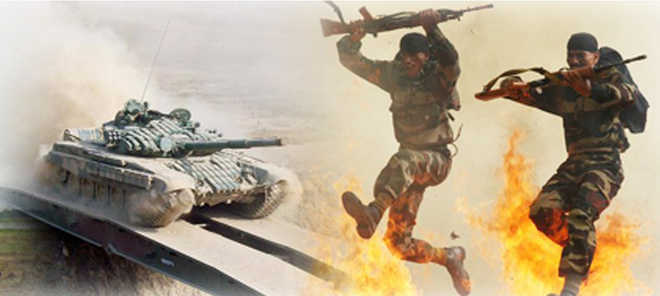 Our Correspondent
Jaipur, May 1
About 20,000 troops of strike formation of the Army's South Western Command (SWC) are carrying out 'Vijay Prahar' exercise with cutting-edge equipment and state-of-the-art force multipliers in the Mahajan Field Firing Ranges close to Suratgarh in Rajasthan.
"The exercise represents a small section of the overall offensive along our Western front which would be a high tempo joint air land operation involving hundreds of aircrafts, thousands of tanks and artillery pieces supported by real time intelligence surveillance reconnaissance and just in time logistic support," Brigadier Anil Gautam, General Staff (Information Warfare), SWC, said here on Tuesday.
"Troops are participating in a month-long exercise to practice penetrative manoeuvres across the obstacle-ridden terrain, mainly the heartland Punjab area of our adversary, under a nuclear umbrella," he said.
During the exercise the formations of South Western Command are practicing and operationalising certain innovative concepts of operating in the network-centric environment, integrated employment of modern day sensors with the weapon platforms, employment of attack helicopters in the air cavalry role and bold offensive of application of the Special Forces.
The formations will also refine the drills and procedures for fighting in the nuclear environment during the course of the exercise.
The exercise has a focus on the real time information, intelligence, surveillance and reconnaissance capabilities, deployment and using satellite-based surveillance capabilities, drones, electronic warfare capabilities, radars with an aim to have a transparent battle field.
Senior military officers, including General Bipin Rawat, Chief of the Army Staff; and Lt Gen Cherish Mathson, Army Commander, South Western Command, are likely to witness the final phases of the exercise later in the week.