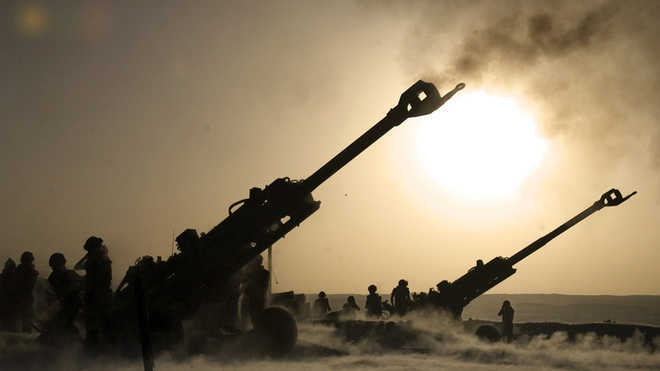 Ajay Banerjee
Tribune News Service
New Delhi, February 6
In what will be a major boost to self-reliance for military equipment, the Ministry of Defence is set to give permission for procurement of the first lot of 40 artillery guns made by the Defence Research and Development Organisation (DRDO) in collaboration with two Indian manufacturers.
The guns called the Advance Towed Artillery Gun System (ATAGS) performed "very well" in winter trials in Sikkim last week.
(Follow The Tribune on Facebook; and Twitter @thetribunechd)
The Army has given its go-ahead after seeing the performance of the weapon. Any additions or improvements to the gun can be incorporated in later versions. This will include auto-loading of ammunition and certain other specifics like reduction of the weight of this 155 mm, 52-calibre gun
The MoD had sanctioned the ATAGS project in September 2012 and the DRDO partnered with Bharat Forge and Tata Power (Strategic Engineering Division) SED to develop two prototypes of the towed artillery guns. A prototype was part of the Republic Day Parade in 2017.
The Army is looking at hundreds of such guns. India had not ordered any new 155 MM artillery guns since March 1986 when 410 pieces of the Swedish company Bofors' FH-77B 155mm/39 calibre howitzer were purchased for Rs 1,500 Crore. However, in the past 24 months, the ATAGS is the third artillery gun that is set to be purchased or made.
Rs 900-cr project
The guns, called Advance Towed Artillery Gun System, performed "very well" in trials in Sikkim last week
The MoD has now asked the DRDO to move the proposal for procurement and get the production rolling
This will cost around Rs 900 crore even as the finance wing of the MoD wants a price check
Top News
Hundreds are still believed to be trapped under rubble, and ...
Some purported statements of the lawyer, allegedly against M...
It will enable India to meet its entire requirement of helic...
The municipal House fails to elect a mayor on Monday after a...
Earlier, TMC skips opposition meeting on the issue