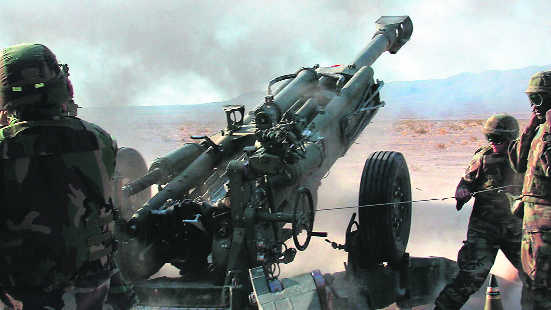 Ajay Banerjee
Tribune News Service
New Delhi, June 27
The recent decision of the Ministry of Defence (MoD) to acquire a new set of artillery guns is literally the first "baby step" towards meeting the Army's artillery modernisation plans drawn up in 1999.
The MoD okayed the letter of acceptance that would be delivered to the US supplier, BAE Systems, for 145 ultra light howitzers (ULH) of the 155 mm variety. This was the first formal okay for a 155 mm gun since March 1986 when the Bofors guns were purchased.
The Army's artillery modernisation has ambitious needs. Called the Field Artillery Rationalization Plan, and drawn up in 1999, it talks about acquiring 2,800 guns by 2027. The first step in that direction was taken on Saturday, but the follow-up steps are expected to be rapid.
The plan talks about 155 mm guns of all types—that is 1,580 towed guns, 814 truck-mounted guns, 100 tracked self-propelled guns,180 wheeled self-propelled guns and 145 ultra light howitzers.
The bulk will come through when mounted guns and towed guns are procured. International companies have been invited for this to join the "Make in India" initiative.
To apply for the contract of the 1,580 towed guns, French company Nexter has teamed up with local partner Larsen & Toubro. Israel's Elbit Systems has partnered with Bharat Forge.
In case of the 814 truck-mounted guns, Nexter and L&T have bid, along with Ashok Leyland. TATA has South African gun-maker "The Denel" as its partner.
The immediate addition to the artillery gun numbers could come from two separate tenders. First is a "tracked self-propelled" gun mounted on a tank-track type chassis. India plans to buy 100 pieces of this. The MoD is negotiating with the L&T-Samsung combine. The evaluation process is over and the price bids were opened in December 2015.
The second will be the indigenous Dhanush gun, based on Bofors design and transfer of technology. The MoD yesterday laid down a stiff time line for the Ordnance Factory Board (OFB), its maker, to be ready with six "production-level prototypes" for trials and bulk orders will follow. The Army want to acquire 114 pieces of this.