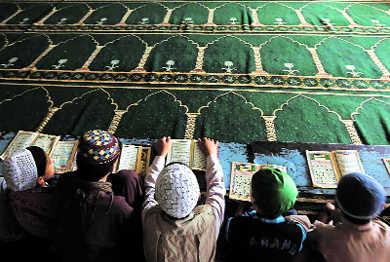 Bijay Sankar Bora
The BJP-led government in Assam has decided to disband the State Madrasa Board and hand over the academic part to the Board of Secondary Education, Assam. The Sanskrit Board will also be dissolved, according to Education Minister Himanta Biswa Sarma.
"To mainstream madrasa education, we are disbanding the Madrasa education directorate and making it a part of the secondary education directorate," he tweeted. Sarma told the House recently that the state government wanted to "mainstream" madrasas and introduce modern learning, such as computers.
"We want to introduce modern learning in these institutes. For this, we will have to change the existing structure," he said in his reply to a cut motion on supplementary demands for grants for the Mid-Day Meal Scheme. Assam had set up the Madrasa Education Board in 1934, with nine schools under it. After Independence, it was renamed as State Madrasa Education Board. It has over 700 madrasas under it.
Heritage tag for tribal brews
An alcoholic beverage made from fermented grain or fruit by tribes in Assam using traditional starter cake has finally been provided with the "heritage" tag. The brew, however, should not contain more than 12 per cent alcohol volume to be bracketed among "heritage" ones.
From now, Assam's Excise Department will grant licence to establish heritage alcoholic beverage units while the licence to establish microbrewery or a retail shop will be given by the DC of the district with the prior sanction of the Excise Commissioner. The licence fee for retail outlet, microbrewery, wholesale and "manufactory" will be Rs 5,000, Rs 10,000, Rs 15,000 and Rs 25,000, respectively.
The manufacturer will have to ensure use of transparent white glass, PET bottles and also proper cleaning, washing, rinsing, sealing, labelling and packaging "to the satisfaction" of the Excise Commissioner, according to a gazette notification.
Naga dialects in schools
The Nagaland Government will introduce Naga local dialects in schools from the academic session 2018. This, the government says, is to effectively implement the three-language policy and to preserve, protect and promote Naga languages.
While English will continue to be the medium of instruction in all schools, teachers will be encouraged to explain difficult concepts and scientific terms in the children's mothertongue. With the introduction of local Naga dialects in schools, Alternative (Alt) English shall be abolished in a phased manner, starting from Class V from 2018 and Classes VI to VIII from 2019.
In urban areas, in addition to local languages, Naga heritage studies will be must for non-local students (those from outside the linguistic group of the local area). A panel has been set up by the state to examine the implementation of the three-language policy.