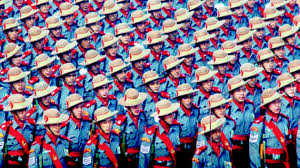 New Delhi, September 14
The government is working on a plan to divest the Army of operational control over India's oldest paramilitary force Assam Rifles, responsible for guarding Myanmar border, and is likely to merge it with ITBP, which guards borders along China.
Sources in the government said the proposal might soon be placed before the Cabinet Committee on Security (CCS), but not before the MHA gave its approval.
In an affidavit filed in the Delhi HC, former Union Home Secretary Rajiv Gauba had said the CCS note was to resolve the "issue of dual control over Assam Rifles". It was decided that both the ministries (defence being the other) shall abide by the CCS decision, it was said.
During the UPA-II regime in January 2013, the MHA had prepared a draft for CCS proposing Assam Rifles to be replaced with the BSF on the Myanmar border and transferring the force's operational control to the MHA.
The MoD had then seconded the first part of the proposal, but wanted the Army to retain operational control. The tussle between the two ministries to gain complete control over the force began with the decision to bestow Army operational control after the 1962 China war. Three years later, the MHA had just administrative hold over the force. The Assam Rifles was formed in 1835 as 'Cachar Levy' to guard the alluvial plains of Assam against tribes.
Sources said once the control issue was resolved, Assam Rifles could be merged with ITBP and given responsibility of guarding Myanmar border. They said reason for doing so was to ensure ITBP got better operational manoeuvrability by rotating personnel from difficult Himalayan posting to Myanmar border plains. — TNS